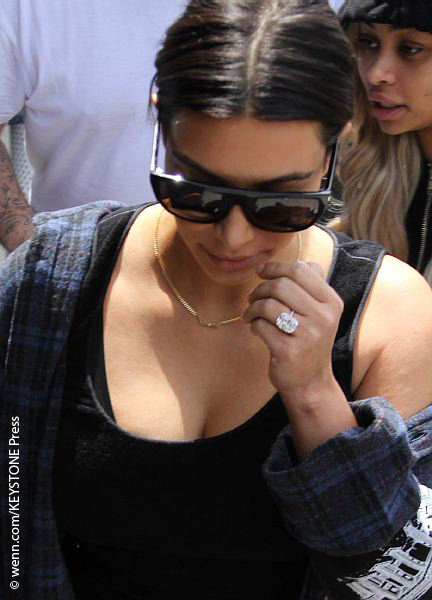 Kim Kardashian and her $4 million engagement ring may soon be reunited.
According to Us Weekly, the reality star could get her stolen 20-carat sparkler back very soon — with the help of two of the suspects who were arrested in connection with the Paris robbery last October.
A Parisian police insider told the mag that the pair of 50-something brothers, accused of "disposing" of the bling, are involved in the diamond trade and "are thought to have handled the stolen jewelry."
"Their homes have been searched from top to bottom, and so has a jewelry shop in Paris which is also linked to them," the source said. "The jewelry has not yet been found, but these brothers could lead us to it over the coming days."
The men also allegedly frequent the city of Antwerp, the diamond capital of Belgium, where unsourced gems can go for millions.
"It's a town where jewelry can be sold on with no questions asked," the source added. "The men know the industry inside out, and may well know exactly where the ring went."
It was reported yesterday (Jan. 9) that up to 17 people were arrested, including Kim's limo driver, in connection with the Paris hotel heist where Kim was held at gunpoint and robbed of over $10 million worth of jewelry. Us Weekly claims the Keeping Up with the Kardashians star will have to "watch a video" of the robbers following their arrests. ~Shelby Morton
Kim has kept up a pretty low profile since the crime, even toning it down on Instagram recently. Do you think this will change if she gets her jewelry back? Sound off below!