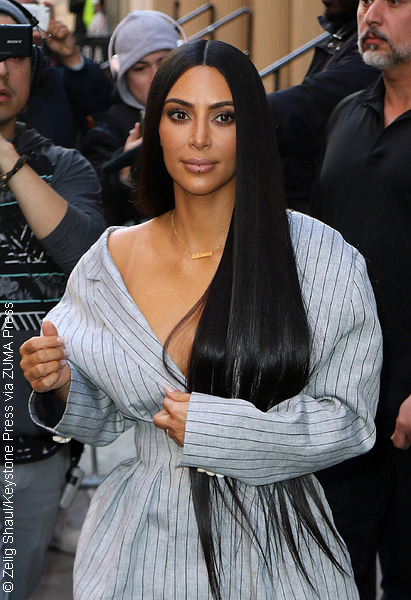 Details of the October 2016 Paris robbery involving Kim Kardashian and a handful of armed, masked men have emerged from several sources. French police, the reality TV star's former bodyguard and the concierge at the hotel where the events transpired are a few people who have spoken out.
But for the first time, Kim addressed the incident herself during Sunday's (March 19) highly anticipated episode of Keeping Up with the Kardashians.
With her sisters Khloe and Kourtney by her side, the 36-year-old celebrity began her recollection of the robbery. She said, "What I think happened now after thinking about it so much is that there was probably a group of guys that were following us the entire trip. I was Snapchatting that I was home and everyone was going out, so I think they [the robbers] knew Pascal [Kim's bodyguard] was out with Kourtney and that I was there by myself. They had this window of opportunity and just went for it."
She remembered hearing footsteps while in bed, and "knew something wasn't quite right" when she called out and didn't get a reply. She said, "My heart started to get really tense."
At that point, two men in police uniforms entered. They were holding onto the concierge, who was handcuffed and clutching the key to Kim's room. She revealed, "What I've heard from talking to him afterward is they said, you know, 'Where's the rapper's [Kanye West] wife? Let us up to her room!' in French. He ended up being our interpreter because I couldn't understand them, they couldn't understand me."
The concierge asked Kim to give the men her ring. They then dragged her out of the bedroom and into the hallway, which is when she realized they were armed.
A few moments passed before they brought her back into the bedroom. She pleaded with the concierge to ask the robbers to spare her life. She begged, "I have babies…Please, I have a family. Let me live!"
Kim then discussed how one man covered her mouth with duct tape, grabbed her legs and pulled her toward him while she was naked. She said, "I thought, 'OK, this is the moment they're going to rape me.' I fully mentally prepped myself — and then he didn't."
Her mind raced and she determined that they were going to shoot her. A gun was pointed at her head and she "just prayed that Kourtney's going to have a normal life after she sees my dead body on the bed."
The KUWTK star sobbed as she replayed the moment. Just as she thought the men would murder her, though, "they picked her up and put her in the bathtub before fleeing with the jewelry," E! Online reports.
Shortly after, Kim's bodyguard arrived and police were informed. Kourtney, Kendall, and Kim's mom Kris were summoned as well.
Kris shared, "Being woken up in the middle of the night with that call was probably one of the worst nights in my life."
She added, "It's so hard to believe that this even happened and for a trip that started off so magical, it turned out to be such a terrible, terrible nightmare…The thought of losing Kim is emotionally scarring and hard to overcome."
What do you think about Kim's side of the story? ~Matthew Pariselli