Kim Kardashian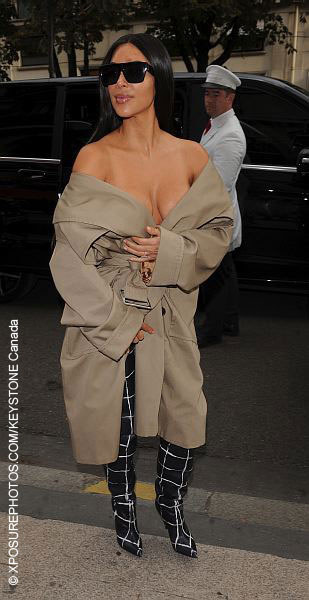 was robbed by five armed men dressed as police officers early this morning in Paris.
At approximately 3 a.m. this morning, after entering the swanky Hotel de Pourtalès on rue Tronchet, the robbers, who were wearing masks, handcuffed the concierge and forced him to show them which part of the building Kardashian was in.
They then forced their way into her private residence, where two of the assailants tied the reality star while holding a gun to her head, then locked her in the bathroom.
Kardashian, 35, was in Paris for fashion week. Her spokeswoman says she is "badly shaken but physically unharmed."
The thieves made off on bicycles with $14.7 million in jewelry, including her engagement ring.
She is pictured at left in Paris yesterday (Oct. 2), leaving the offices of Mugler Haute Couture Fashion House.
Her husband, Kanye West, was in New York at the Meadows Music and Arts Festival performing a concert when he received news of the robbery.
Just 45 minutes into the show, he abruptly ended his concert, telling the confused and angry fans, "I'm sorry, I have a family emergency, I have to stop the show." See the video below. ~Alexandra Heilbron