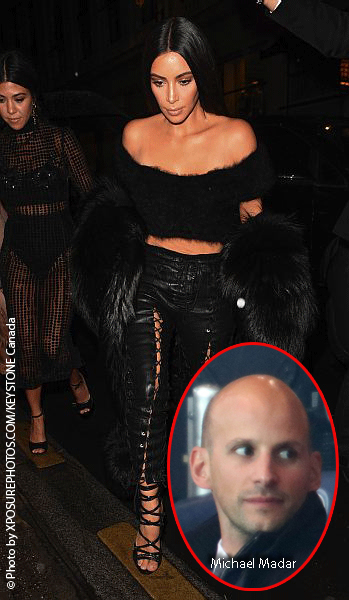 As the hunt to track down the criminals involved in Kim Kardashian's Paris robbery intensifies, the reality star's limo driver Michael Madar has been released from police custody with no charge.
Us Weekly reports that a spokesman for UNIC Worldpass car service confirmed the news.
Madar was one of 17 people apprehended this week for the October 2016 crime. The 40-year-old was held in custody and questioned for his close association to Kim, but according to Us Weekly's source, "was never a serious suspect."
The driver's brother Gary, whom occasionally worked as a chauffeur for Kim himself, was also arrested. He remains in custody.
As revealed by the French publication Le Monde, Michael was the last person to drive the Keeping Up with the Kardashians star before she was bound and robbed at gunpoint on Oct. 3, 2016. Five individuals were present at the time of the crime, and an estimated $10 million in jewelry was stolen.
At this point, police believe the stolen items were transported to Antwerp.
Three women and one 72-year-old man are among the other people arrested. According to French reports, the elderly man is known as "Pierre B" and is thought to have orchestrated the heist.
Jean Veil, Kim's French lawyer, has come forward and told France 2 TV that the 36-year-old wife of Kanye West is "very happy, very satisfied, and to a certain extent reassured by the efficiency of the French police." ~Matthew Pariselli
Inset photo © Mehdi Taamallah/Keystone Press via ZUMA Press