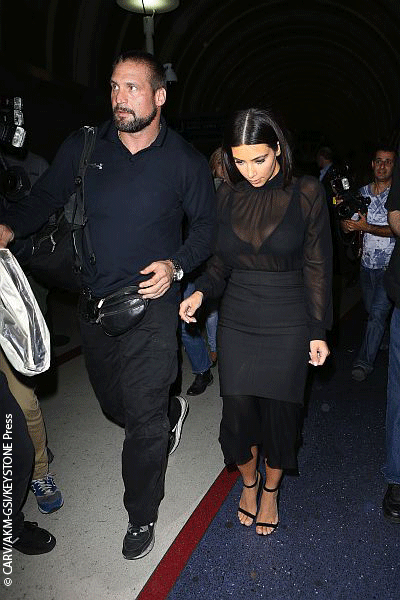 The bodyguard who was fired by Kanye West for allegedly flirting with Kim Kardashian has some choice words about the reality star's Paris hotel robbery, calling it a product of "karma."
During an interview on the Australian morning talk show The Project, Kimye's former bodyguard Steve Stanulis showed no sympathy for Kim (pictured left with current bodyguard Pascal Duvier) and said she and her family will never stop flaunting their lavish lifestyle on social media, despite the consequences.
"First of all, they'll [the Kardashians] never stop posting. That will never change. That's what made them, especially Kim, and that's what she'll continue to do," he said.
When asked if he could've prevented the crime, he responded, "I don't know if I could have taken down five assailants with guns, [or] it could be karma coming around."
Early Monday morning, five masked gunmen broke into into the luxury hotel in Paris where Kim was staying and held the star at gunpoint, making off with more than $14 million worth of jewelry, including her engagement ring.
This isn't the first time Stanulis, a former NYPD officer, has criticized the fame-hungry couple this week. While on Good Morning Britain on Tuesday, he cited their lack of "respect" for proper security as a reason for the breach.
"Look, they had this coming to them. They do not respect the importance of security when you have a profile as strong as theirs," he said. "When I worked for them Kanye would take off on his own in a cab and leave me behind to take another cab. It used to infuriate me as I wasn't doing my job as well as I could have."
He even went so far as to say that the robbery was an "inside job," once again pointing to his former employers' reckless public habits.
"They went to an exclusive place, with exclusive entrances, they knew exactly where to go, where to find the jewelry. Security was out with the sisters and Kim had been showing all the jewelry on Snapchat. It's a perfect storm to get robbed." ~Shelby Morton
What do you think — sour grapes or the simple truth? Sound off below!