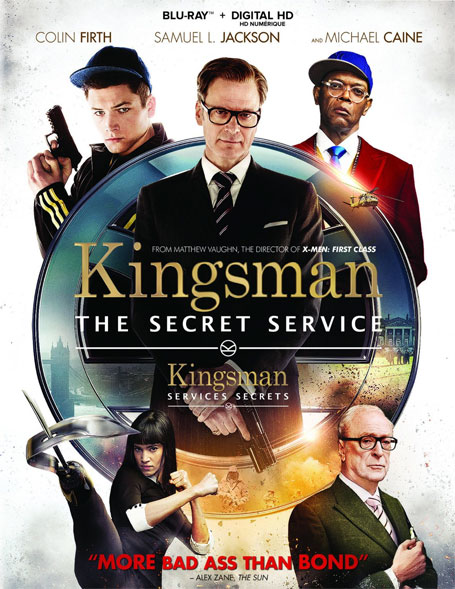 Smart. Funny. Insanely violent.
These ingredients and more are all a part of the ultimate spy movie. Kingsman: The Secret Service gives the entire genre a polite kick in the a**.
James Bond. Jason Bourne. Ethan Hunt. Move over, Harry Hart just added his name to the list of all-time great secret agents. Armed with a plethora of gadgets and a vicious mean streak, he wears a cloak of secrecy. More importantly, he remains a gentleman.
This film is nothing like it appears. As soon as you think you have it figured out, you quickly realize how wrong you are. The plot twists and turns keep you engaged from beginning to end. The performances are remarkably convincing, and with so many big names in the cast you'd expect nothing less.
So here's the story. British secret agent Harry Hart (Colin Firth) is part of an elite spy organization known as the Kingsman. The film opens on a mission in the Middle East where Harry and his colleagues are interrogating a suspect. The lack of cooperation causes Harry to open fire with the hopes of persuading the suspect to talk.
What he doesn't know is that the suspect is armed with a bomb. Prior to detonation, one of the probationary agents dives on the suspect, subsequently saving the lives of his team. Hart blames himself for the mishap and upon returning home to England, he visits the family of his fallen comrade. The wife is obviously distraught and not exactly thrilled to see him. Her young son is also present but doesn't fully understand what's happening.
Harry gives the young man Gary, or Eggsy (Taron Egerton) as he prefers to be known, a medal that belonged to his father. There is a number on the back as well as a coded message that they can use whenever they need help.
Fast forward 17 years. A university professor is kidnapped and the Kingsman are on the case. They stage a rescue attempt that is interrupted by billionaire Richmond Valentine (Samuel L. Jackson) and his assistant Gazelle (Sofia Boutella). Now these are two truly unique individuals. Valentine is a cross between Jay Z, Mike Tyson and Bill Gates. He has the rapper's old wardrobe, the boxer's voice, and the bank account of the internet mogul. His assistant is a double amputee with two bladed prosthetic legs.
When Gazelle uses her blades to cut the agent in half – and I mean right down the middle – I was instantly captivated. Valentine then gives a glimpse into his character and his devious plan.
Now if you're keeping track, the Kingsman have already lost two of their finest men. This of course causes the organization some concern and a meeting is called by Arthur, the leader of the Kingsman. All remaining agents must provide a recruit they deem worthy of becoming part of the service.
From there we enter a South London neighborhood and find a grown up Eggsy living with his mother, infant half-sister, and his stepfather. The new man in his mother's life is a real piece of work. He's controlling, abusive, and a downright loser. Eggsy has shown flashes of brilliance growing up but is currently unemployed and running the streets.
While in a pub Eggsy has a run in with some of his stepfather's henchmen. Eggsy appears to diffuse the situation by avoiding the confrontation and leaving the bar with his friends. However, when they get outside, they learn Eggsy has picked the pockets of one of the thugs. They steal his car and take off for a joyride through the streets of London.
Things go awry and Eggsy ends up in a police station. Facing some real time, he exercises his right to a phone call. The medal he was given is around his neck and he decides to call in the favor promised to him as a young boy. Within minutes he is released with no charges. Both surprised and intrigued, Eggsy leaves the station. Harry confronts him outside and explains that he is responsible for his release. More importantly, he lets him know he's a tailor and a friend of his late father.
The two head to a pub – like proper Englishmen – to talk over a pint of Guinness. Their conversation is interrupted by the thugs from the other night. Visibly upset, they look to settle the score with Eggsy. Harry attempts to calm the gentlemen but is greeted with complete disrespect.
"Manners make men." Everything that follows those words is outright carnage. Harry literally cleans the bar with the ruffians, leaving a wide-eyed Eggsy to ponder. Before leaving, Harry swears Eggsy to secrecy.
Eggsy returns home and is grilled by his stepfather for info on the man who pummeled his crew. Despite being smacked repeatedly, he gives up nothing. Instead a warning is issued to the stepfather, using a device Harry placed on Eggsy in order to monitor him. Harry advises Eggsy to meet him at the tailor shop they discussed at the pub.
Once there, Harry makes the offer of a lifetime. A chance to become an official member of the Kingsman. With nothing to lose, Eggsy accepts and thus begins an incredible journey.
Eggsy's recruitment process gives a lot of insight into what the Kingsman are made of. They refer to it as "the most dangerous job interview," and they were absolutely right. Making it into the organization is nearly impossible.
There's so much more but I can't give you everything. What I can say is this is the one of the best spy films I have ever seen. There are also loads of bonus features that pull you deeper into the world of espionage. They reveal everything from the comic book origins to the costumes and set design. They spared no expense in the making of this film and the hard work definitely paid off.
One of the best scenes in the film is a fight that takes place in a church. If you're like me, you're wondering how "fight" and "church" are in the same sentence. The bonus features show an in-depth look at how the scene was accomplished. Needless to say it's a must-see moment.
This movie has the classic feel of a Bond film with a touch of contemporary flavor. Bold action sequences and witty writing make it a truly enjoyable experience. This one delivers on every level. ~ Andree Rhooms
Also releasing on DVD today: The DUFF, Serena, Red Army, Project Almanac and 88.
Watch the trailers:
Kingsman: The Secret Service
Project Almanac
The DUFF
Serena
Red Army
88