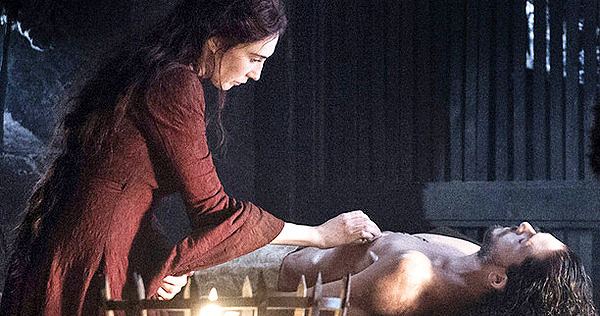 Apparently there's a lot more to resurrecting Jon Snow than meets the naked eye.
Game of Thrones stars Carice van Houten, Kit Harington, and director Jeremy Podeswa spoke with EW.com about the intense (and intensive) resurrection scene in last Sunday's episode "Home."
"It was such an important scene, we shot it from so many angles," Carice said, recalling Podeswa's determination to perfect the scene, which had her character, the Red Woman Melisandre, cleansing and touching Jon Snow's (and Kit's) naked, dead body in order to bring him back to life.
"It took forever to resurrect him, forever!" the actress said. "I think I washed [Kit's] body 50 times. There would be a lot of people who would be very jealous, including my mother and sister. I was joking about that with him – 'if only my mother could see this' – and he loved that."
Kit himself called the experience "very weird, like a teenage boy's wet dream – you're laying there naked and Carice van Houten is washing you."
Podeswa called the on-screen Jon Snow "gracious" for lasting through the near week-long shoot, all while laying on his back, playing dead, almost fully exposed — save for a loin cloth.
"Kit's fantastic in so many ways, he's a wonder actor and a wonderful person and was really patient," he said. "He was great [at] pretending to be dead."
On the contrary, Kit said filming the scene was a welcome change from his usually physically taxing and very cold scenes.
"It was such an easy two episodes, I loved it," the actor said. "I'm in a warm room, which is unusual for me."
Game of Thrones airs every Sunday on HBO at 9 p.m. ET/ MT.
~Shelby Morton