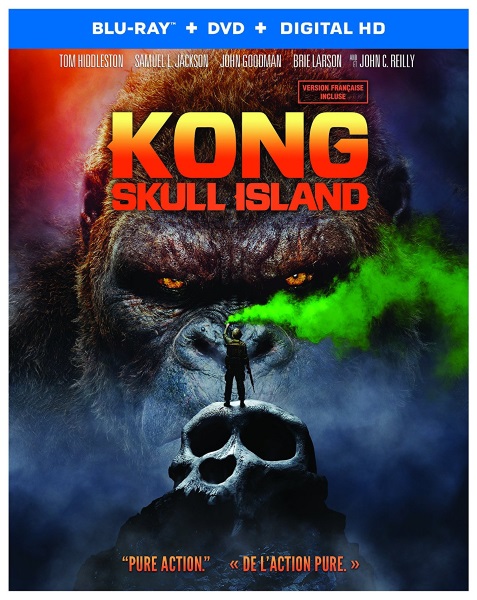 In Kong: Skull Island we see the return of the classic King of the unexplored jungle.
Scientist and so-called crackpot researcher Bill Randa (John Goodman) approaches the U.S. government to help support an expedition to the mysterious Skull Island. Reluctantly, officials agree and recruit the help of military leader Preston Packard (Samuel L. Jackson) and his men to assist. Tracker James Conrad (Tom Hiddleston) and photographer Mason Weaver (Brie Larson) are also recruited for the exploratory mission.
And so, we see the group delve deep into the uncharted territory of Skull Island in the Pacific. Veiled behind a thick and dangerous storm system that would make any storm-chaser quiver, the crew ventures to the island, where many of them quickly meet their doom at the legendary (and large) hand of Kong. And as the saying goes, that's when sh!* hits the fan.
We quickly learn that Kong isn't the only resident monster on the island, as the nearly-stranded surviving members of the crew struggle to survive a primordial Eden that's more like Hell. Along the way, though, they meet someone who's tantamount to a savior — a former American soldier stranded on the island since WWII — Hank Marlow (John C. Reilly) — who aids the group in their efforts to get off the island. Hank updates them on the real dangers of the island, namely these fierce and ferocious lizard-like creatures, and Kong's place as protector, not villain. As the adventure continues, we learn that humans can be as merciless as anything in this uncharted world.
After so many films about Kong, what's the best way to describe this new film? Well, it's sort of like Indiana Jones meets Jurassic Park — except it's somehow (unexpectedly) scarier. And it's not Kong that's terrifying, it's everything else on the island that's trying to kill you.
I have to say this film was not what I expected. While Kong is still somewhat the main focus, the island itself, and the rest of its strange inhabitants, also take a lot of the spotlight. The film was less about the crew fighting Kong and more about them fighting each other and the results of a natural world run amok.
The world of Skull Island received some solid development, which is good, because the characters really didn't. Most of them, save for one, which I'll get to in a second, were rather shallow in depth. I didn't mind though, because I was more interested, and I suppose distracted, by the world they encountered on Skull Island. It was fun not knowing which weird creature they'd encounter next and what hidden danger lurked around the corner.
If the animal inhabitants of Skull Island weren't interesting and fun enough, John C. Reilly's character, Hank, sure was. I mostly know Reilly as a funnyman from films like Step Brothers, and his humor comes through well in this film. While he seems a little "off" and quirky (but who wouldn't go stir crazy after being stranded on an island for years), we see how he managed to survive so long on the island and his respect for it, as well as how much he wants to get back home to the life he left behind before the war. He is an intelligent character and it's mainly because of him that the crew gets as far as they do.
Overall, this film was a lot of action, a bit of gore, and a ton of fun, which for me is what I want in a classic monster movie!
Special Features:
Kong: Skull Island comes loaded with special features. In addition to the director commentary, fans can see how Kong was re-developed in the two featurettes, including Creating a King. 
You can also delve deeper into the companion archive in Monarch Files 2.0, which showcases the "MonsterVerse mythology."
Feel like connecting with some of the film's characters? Tom Hiddleston: The Intrepid Traveler takes you on a tour to the beautiful locations in the film. You can also take a closer look at Brie Larson's photography in Through the Lens: Brie Larson's Photography. 
Get a more in-depth look at the movie's main filming location in On Location: Vietnam.
Finally, enjoy a selection of the film's deleted scenes.
Have you seen Kong: Skull Island? Tell us what you thought by rating and reviewing it here. ~Alexa Caruso