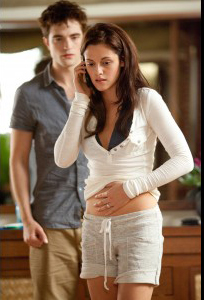 What happens when a century old vampire and 17-year-old high school student fall in love? They get married, of course. Well, they do if they're Edward Cullen (Robert Pattinson) and Bella Swan (Kristen Stewart) – a mysterious young couple from the rainy town of Forks, Washington, and the main characters in Twilight: Breaking Dawn Part 1.
The only difference is, when Edward and Bella pledge to love each other forever, the common "'Til death do us part" statement means something a little different than for average folk. Edward can't die, and Bella wants to make sure she won't either, by turning into a vampire and joining him in eternal life. Unfortunately, not everyone agrees with that idea. Especially Edward. He wants Bella to live her life as a human and experience everything the mortal world has to offer. Her best friend, werewolf Jacob Black (Taylor Lautner), wants to ensure her safety and won't be happy to hear of her impending vows to a vampire – his natural enemy. Worst of all, an old treaty between the Cullens and the Quileutes (Jacob's werewolf family) bans the Cullen family from ever biting a human (the only way to turn Bella into a vamp). Their lives will be at risk if they do.
But when Edward and Bella's honeymoon results in a supernatural pregnancy and her human body can't sustain what's growing inside her, it may just be the only way to save her life. "I'm incredibly pregnant in the movie," Stewart told the L.A. Times. And what about the prosthetic belly? "I've worn it. It's…crazy. I've done fittings. It gets immense. It gets so massive at some point that it actually looks inhuman. Like it's hurting her. There are striations of bruises."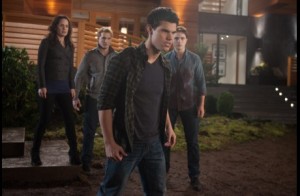 But that's the least of their problems. Having a hybrid vamp/human child poses different threats to the wolf pack and vampire coven – who have a rule to never allow children to become vampires. As the Volturi, led by Dakota Fanning, Jamie Campbell Bower and Michael Sheen, come back onto the scene to ensure Edward has made good on his promise to turn Bella into a vampire, a war begins.
Breaking Dawn plans to be more emotionally dramatic than the rest of the movies, which is no different off-screen for its stars Stewart and Pattinson. While Pattinson and Stewart aren't open about their off-set relationship, no one can deny their chemistry on-screen. Maybe it's just the magic of the set or the unique connection between their characters, but it's obvious to everyone watching there is something special between them. At no point during filming was this more evident than during the wedding scene, their co-star Jackson Rathbone (Jasper Hale) said. "We've been watching this relationship develop and even though we're playing the parts and at the end of the day we wash off that white face makeup and peel back the wigs that we're wearing, when we were there at the wedding scene, all of us felt it,"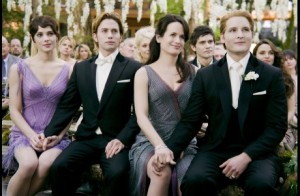 Rathbone told E! Online. "She just walked out; everybody was quiet. Your heart would skip a beat, you get kind of teary-eyed."
Love. A dream wedding. A baby. It all seems like the typical path to take—but when it comes to Edward and Bella, their lives are anything but average. Luckily, the film isn't either. "It's a very exciting movie," Lautner told The Press Association. "It's very emotional and dramatic, but at the same time, it's a big one. It's very up there."
~Katharine Watts