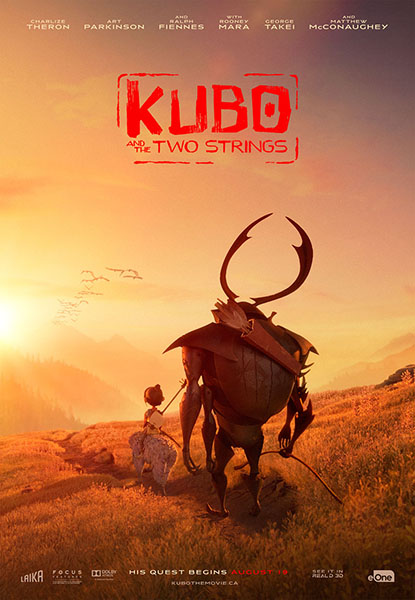 You don't see a movie like this everyday.
Kubo and the Two Strings is being marketed as a great movie to take your children to, and it is, but there's so much more. From the voice acting, to the animation to the heartbreaking ending, I was blown away.
Kubo (Art Parkinson) is a young Japanese boy with only one eye. His eye was taken from him by his grandfather, the evil Moon King (Ralph Fiennes) when he was a baby. Kubo's father sacrificed his life to protect his son from the Moon King and his demonic daughters.
Our young hero spends his days playing his shamisen in the town square. He uses magic to make origami move like a magic puppeteer. When the sun goes down, Kubo must return home to his mother (Charlize Theron). She hasn't been doing too well. Her memory is fading, as is her ability to use her magic.
The movie really kicks off when Kubo stays out past dark. This allows the Moon King's demonic daughters to exact their vengeance on Kubo and his mother. It's up to Kubo to locate his father's armor and defeat the Moon King. Along the way our hero meets a monkey and a beetle (Matthew McConaughey).
I love this movie. The animation is breathtaking. I'm going to have nightmares tonight thinking about the Moon King's daughters. They are just as scary as anything I've seen in horror movies.
The acting is wonderful. Who knew Rooney Mara (as one of the daughters), Matthew McConaughey and Charlize Theron would be such naturals? Art Parkinson, who plays Rickon Stark in Game of Thrones, pulls off an uncanny American accent. The fact that he was underused in Game of Thrones is ridiculous. This boy is a star.
It was also nice to hear George Takei deliver his signature "Oh my!" in the role of Hosato, a phrase that will forever be associated with the Star Trek star.
The movie's real power comes from the ending. In retrospect, I was thinking this was going to be a movie for children, but there are plenty of violent scenes involving killing and eyes being removed. However, I really enjoyed it myself. Kubo, Monkey and Beetle have great chemistry. I can't imagine other kids' movies having an ending as mature and bittersweet as Kubo and the Two Strings. The movie's title has multiple meanings, many of which I'm just realizing now.
This movie's theme is that memories and the emotional attachments to our loved ones make humans strong. Humans just have to love, it's who we are. The way this movie tells this story is nothing short of extraordinary.
Go see Kubo if you're a fan of animation, samurai movies or if you just love heartwarming stories about love and family.
Have you seen Kubo yourself? If you have and you'd like to write your own review, click here and tell us if you agree or disagree with my thoughts on the movie in the comments below. ~Yanis Khamsi