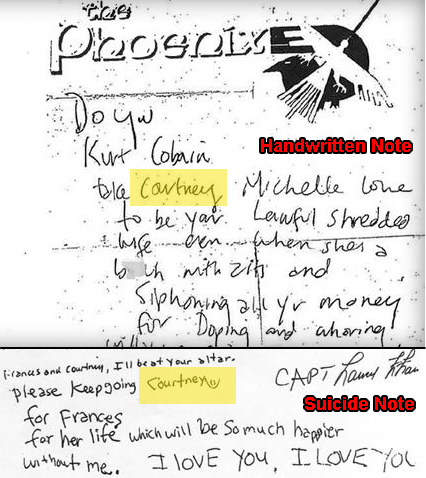 There is new evidence in Kurt Cobain's death following the release of a handwritten note found in his wallet but never made public until now, as well as death scene photos that weren't developed in the 20 years since he died. Cobain was found dead at age 27 at his Seattle area home on April 8, 1994 of a heroin overdose and a shotgun blast to his head. Due to pressure from the public and Tom Grant, the private investigator hired at the time by Cobain's wife, Courtney Love, to find her husband, the Seattle Police Department reopened the case. Grant, among others, insists Cobain's death was a murder, not a suicide.
A suicide note found at the scene called Courtney a "goddess of a wife who sweats ambition and empathy" and said in all caps: "I LOVE YOU, I LOVE YOU." The other note, found in Cobain's wallet, seems to be written by someone else. It reads: "Do you, Kurt Cobain, take Courtney Michelle Love to be your lawful shredded wife even when she's a bitch with zits and siphoning all your money for doping and whoring …" Portions of both notes are pictured above – note the difference in the handwriting.
Detective Mike Ciesynski, who specializes in cold case files, wrote in a new report that his review of the newly developed 35 mm film indicated there was "a spent yellow shell casing lying on a coat at the right side of the photo." However, he adds, "I was aware that for the casing to have landed to the victims (sic) left, the weapon would have had to been turned 180 degrees from what it was found." As well, the police report states "the Remington 20 gauge shotgun was lying on victim's chest with the receiver facing up," but in that position the bullet would have fired in the direction of Cobain's right arm rather than his left. An autopsy has never been released or examined by independent experts.