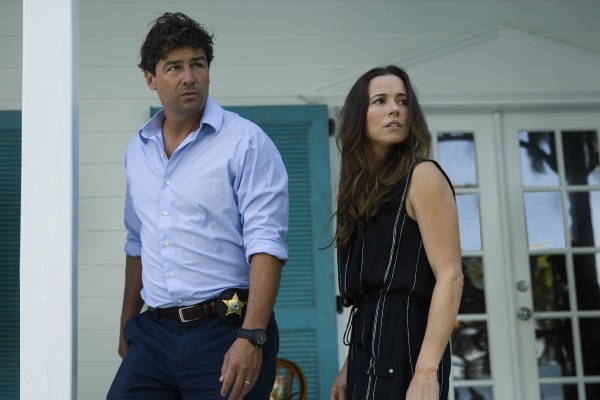 At the end of the day family is family, right? You hug it out! But there are several shades of grey in Bloodline, a new family thriller residing on Netflix (Mar. 20). From the creators of the hit show Damages, Bloodline explores the lives of four siblings and what happens when the oldest brother, the black sheep, returns home. Kyle Chandler plays the second oldest brother, who holds the family together. We chatted with Kyle and executive producer/creator Daniel Zelman about the dark underbelly of the show.
In Bloodline, this is the first time an "upstanding character" of yours does something completely unthinkable, and then justifies it. Can you talk about achieving that balance?
Kyle: The balance for this character of John Rayburn, for myself to play, and the reason I accepted this role on this show, is the way that Todd and Glen and Daniel are putting together these characters, that I felt, no matter where this character ends up, the result will be earned through the development of the character in the story. Therefore, I was more than happy to go on this road, because I don't even know what happens in the long run, and that is just as exciting to me and everything else about this show. A lot of us on the show truly look forward to getting the next script to find out exactly what's going to happen to these characters. Because you have two choices, you can ask what's going to happen and get all the information you want from the three writers. Or you can ask nothing, and many of us, the writing is what it is. It's so exciting to get that script and find out what happens next. A lot of us choose not to ask.
In telling the story, Netflix was the perfect place to do it. Did that give you some creative freedom in telling a non-linear story that's very complicated and intricate?
Daniel:  I think Netflix is absolutely an ideal place to do the show, and it does give us a certain amount of freedom. I think the way we look at it is that you know you have 13 hours to tell a story, and from episode to episode, the next one is just one click away. We feel that we can take our time in developing the character and the story art, because you don't have to wait a long time to get to the next beat of the character or the story, you can go more gradually. The show is a family drama but also a thriller, but we were allowed to get into the thriller in a gradual, organic way, which allowed us to explore the characters first and foremost before the plot takes over. Being on the Netflix format, we thought it would be a great tool in allowing us to do that.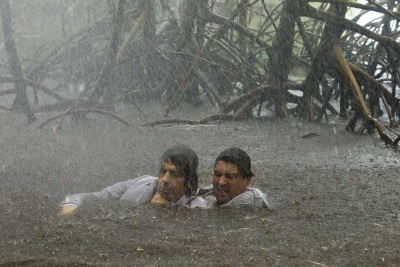 I would love to hear what you think about the relationship between John and Danny? And for that matter, between John and the rest of the family.
Kyle: The relationship between John and Danny, which happened early on is that I love him because he's my brother, but I'm also very angry with him, because he left me. He bailed out on me and left me alone as the head of the family when I was younger. The other characters, as you watch the rest of the 13 episodes, you see just how close we are because of the things we know, and more importantly what we don't know, but we learn about each other. It's very interesting how it mimics real life in many ways, as you get older with your siblings, and you realize who you are as opposed to the expectations of who you are as a family. Just as much as the expectations the other family members put upon you and how you are reticent towards those expectations and really want to carve out who you are yourself. I'm 49 years old and this is a fantastic area to play with. Just like everyone else in the world, I'm going through these same moments in life and exploring this material has been a tremendous amount of enjoyment.
Is there any dynamic in any other fictional or real life families that you drew inspiration from for that real siblinghood kind of relationship?
Kyle: Lady, I will steal from any one I can! I used quite a bit of my own life, stories I've read, stories I've heard. It's called a play, and we have a great time on the set. We've got three really great writers who are also really great people. Who mean what they say and do what they say. There's a collaborative experience between them and the actors that plays out on the set. We really explore the material that they bring to us. It's quite a bit of fun, and really enjoyable to share with the cast, stories of our own true lives. And pretty soon you start getting deeper with the material and you start seeing your own life, and it's relevant in a way.
Why did you decide to set the show in the Florida Keys,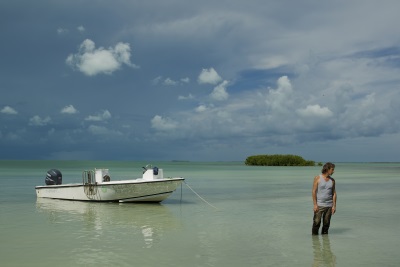 and how do you think it plays into the storyline?
Daniel: There are many reasons why we decided to set it there. One obvious reason was that we were looking for a setting that we thought you couldn't see on television anywhere. So we were looking for a visual environment that we found unique. We hit upon the Keys at some point, we wouldn't have chosen it just for that reason if it didn't serve the story. One of the things that's amazing about the Keys, is that on the surface, it looks like paradise. But it also has this great sort of underbelly to it. Partly in the environment because it has swamps, mangroves, alligators and sharks. But also the human level, a lot of people drop out of society and move there to get away from it all. Even going back into the history of The Keys, it goes back to pirates, and a lot of different character types there. People generally have an attitude down there, that you live your life and let others live theirs. You got people doing all sorts of things down there, and that was appealing to us as well. Finally the story is about a family, and one of the things we wanted to explore in the story is you can't escape from who you are. You can't get away from who your family is, and what they have done.
How is the Rayburn family different from other family dramas we've seen on television over the years?
Daniel: One thing that's different about the show is that I can't think of a show that has exactly combined the family and thriller genres this way. I think that's probably unique or I hope it is. One of the things this show is exploring is the darker corners of family, which is why it is suitable in becoming a thriller, because a lot of family dramas, and I'm not saying it's a bad thing, is that it becomes family affirming. At the end of the day everyone gives everyone a hug, and they all understand each other. And there are some great shows in that vein. But this show is exploring the darker side. Although this family has times where they want to hug and reach out to each other, what we're exploring are their wounds. I think that is also different as well.
Bloodline debuts March 20 on Netflix. ~Marriska Fernandes