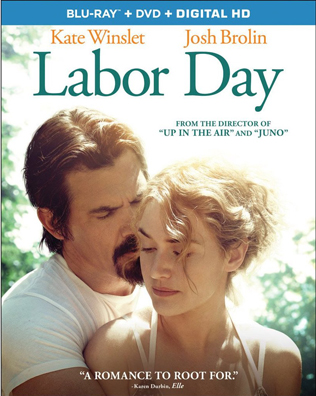 Labor Day is a romantic drama with a generous amount of suspense and tension thrown in. It's told through the eyes of Henry (Gattlin Griffith), a 13-year-old boy with a severely depressed mother named Adele (Kate Winslet). Although his father invites Henry to come live with him and his new family, complete with a new baby and a surly stepbrother, Henry opts to stay with his mother and try to make her happy.
It's hard on the boy, because he wants to fill his father's shoes, but he can't. The house is falling apart, they have little money and his mother starts shaking when she has to go out in public. When it turns out Henry has outgrown his jeans, they have to go to the local discount store to pick up new clothing, as well as food and other necessities.
While there, a man (Josh Brolin) asks Henry if he and Adele can give him a lift. When Henry sees the man is bleeding, he's reluctant but takes him to Adele, who turns him down. The man, named Frank, puts his hand on Henry's shoulder in an aggressive way, and makes it clear that "no" is not an option.
When she asks where he wants to go, Frank asks her to take him to her home—just for a few hours so he can rest and stop the bleeding before he heads out after dark. It turns out Frank has just has had his appendix removed, and right after his operation, jumped through a window to escape. Henry and Adele watch TV and find out Frank is an escaped convict.
Frank isn't aggressive, but considering he's in a tough spot, he is assertive, and the audience is kept guessing as we wait to see if Frank is truly a danger to Henry and Adele or if he's going to leave them unharmed until it's safe for him to leave.
There are multiple surprises in the story, which kept me entertained from beginning to end. My only problem at first was with the flashbacks, which at first are difficult to understand, but soon it becomes clear that they are recounting Frank's life story – about his marriage, his child and what happened that led to him being incarcerated.
Kate Winslet and Josh Brolin are perfectly cast and do justice to their roles, but it's Gattlin Griffith who steals the show. His wide-eyed innocence in the role of Henry is appealing, and we feel empathy for this tender hearted and sad boy who wants his mother to get healthy, while at the same time feel his frustration at being unable to provide her with the happiness and security she needs to get better.
Director Jason Reitman (Juno, Up In the Air) provides us with another beautifully directed film. He allows the audience to get acquainted with these characters slowly, in a believable way. Each scene gives us more insight into their lives and characters. As an added bonus, the scenery of the small town where Adele and Henry live is absolutely gorgeous.
The DVD offers a widescreen version enhanced for 16:9 TVs; French (and Spanish or Portuguese) 5.1 Dolby Digital, English Audio Description and optional subtitles in English, French, Spanish and Portuguese. The Blu-ray offers deleted scenes, a featurette titled End of Summer: Making Labor Day and a commentary by the filmmaker. It's presented in 1080p High Definition, English 5.1 DTS-HD Master Audio, French (and Spanish or Portuguese) 5.1 Dolby Digital, English Audio Description and optional subtitles in English, English SDH, French, Spanish and Portuguese.
If you would like to win a copy of this DVD/Blu-ray Combo Pack, please tell us below what it is about the film that intrigues you most after reading the review. Or if you've seen the movie, tell us what you enjoyed most about it. We have two copies of the Combo Pack to give away, and we'll contact the winners by email on Monday morning (May 5).
Other films coming out on home release today include: Devil's Due, Escape From Tomorrow, The Legend of Hercules, Gimme Shelter and The Selfish Giant. ~Alexandra Heilbron