Lady Gaga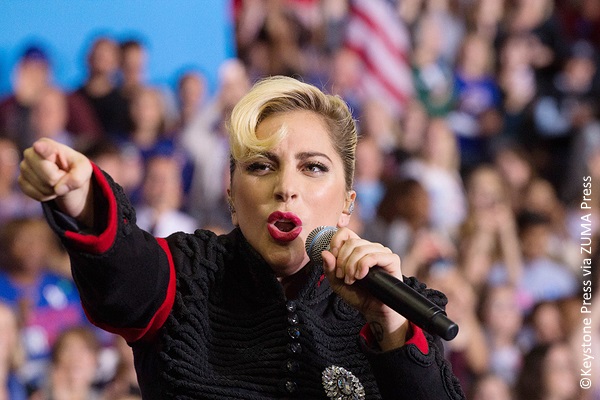 is displeased with the U.S. election results and she's taking action to demonstrate it.
The "Born This Way" singer stepped out in the early hours of Wednesday, Nov. 9 to protest Donald Trump's win over Hillary Clinton, whom she has ardently supported throughout the Democrat's campaign.
Standing outside New York City's Trump Tower, Gaga was perched on the side of a sanitation truck as she held a "Love trumps hate" sign.
Her bold protest came hours after she took to Twitter on the night of Tuesday, Nov. 8 to share a photo she had taken with Black Lives Matter activist DeRay Mckesson. Although she felt defeated by Donald's victory, she accompanied the photo with some encouraging words.
Her caption reads, "In a room full of hope, we will be heard. Stand up for kindness, equality, and love. Nothing will stop us. Say a prayer for America."
Gaga also changed her Twitter handle to #CountryOfKindess in the wake of Donald's triumph.
Earlier this week, Gaga attended one of Hillary's rallies where she championed the Democrat.
She said, "She has a career in politics that spans decades of experience, education, leadership, and wisdom. She's ready to be president. She kept going and she kept fighting for women's rights. She kept fighting for the care of our children. She kept fighting for those that are in need."
Check out Gaga's Instagram post below.
What do you think of her protest? Do you agree with her position on the election results? Share your thoughts with us! ~Matthew Pariselli