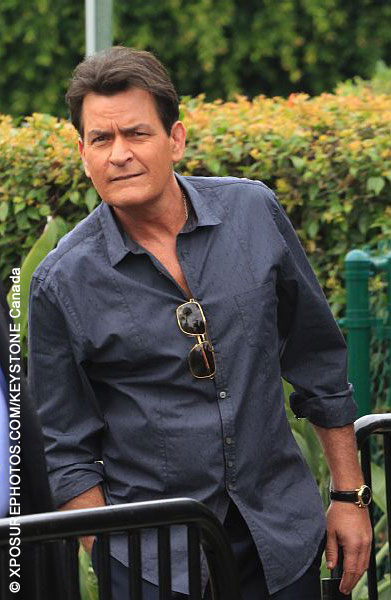 Los Angeles police confirmed today they are launching a criminal investigation into an alleged murder threat made by Charlie Sheen.
According to The Los Angeles Times, LAPD officers went to Sheen's home with a search warrant on March 31 as part of an investigation, the same day Sheen's ex-fiancée  Brett Rossi obtained an emergency restraining order against the actor.
The criminal probe began after abuse allegations were made by Ross during a police interview last week and have intensified after an alleged 35-minute audio tape surfaced through Radar Online and The National Enquirer.
Radar reported that on the recording, Sheen admits to lying to a sexual partner about his HIV status and threatens to pay someone to kill Ross. An unidentified woman can be heard asking, "Why did you not tell me you were infected?" Sheen reportedly replies, "Because it's none of your f–king business."
The LAPD served senior editors at the Radar New York offices with a search warrant, which states that the tape "tends to show that a felony has been committed." It also identifies the victim as "Scottie Ross, aka Brett Rossi."
The Two and a Half Men actor was also reportedly recorded saying, "This piece of sh– needs to be f—ing buried. I'd rather spend 20 grand to have her head kicked in."
An LAPD source told The New York Daily News: "Honestly, she's terrified. He said he was going to pay someone $20,000 to kill her. Lots of people might say, 'That's just Charlie being Charlie,' but we've lived through O.J. (Simpson). We don't take this as a joke." ~Shelby Morton