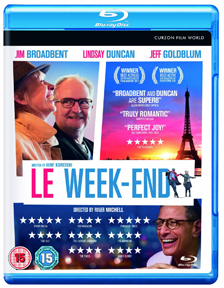 Director Roger Michell does not create an idyllic romance in his film Le Week-End, despite the Parisian location chosen by couple Meg (Lindsay Duncan) and Nick (Jim Broadbent) for their 30th wedding anniversary. Struggle and truth are the themes woven throughout the movie with each character eventually revealing their true feelings and the reality in which they find themselves.
Nick has the idea to revisit Paris and the hotel they stayed at for their honeymoon but Meg wants more from this trip. She's tired of their routine lives, which includes a house they are renovating and a troubled son who calls to complain the house they bought him (and his family) is full of rats. Meg tells Nick she doesn't want their son moving back in with them. She seems to be full of a restless energy, focusing only on absorbing the surroundings and freedom found in Paris.
Nick is eager to embrace the romantic side of the city, but Meg is hesitant, leaving Nick feeling frustrated. He tries to express his feelings with words and physical touch but receives mixed results. Nick has another reason to feel frustrated as he reveals he's being forced into early retirement from teaching due to an inappropriate comment made to a student. Meg is a little shocked, but says she's looking for a "new start" anyway, which changes the tone of the rest of the film.
Meg is classy, well-spoken in both English and French and a free spirit. This is what drew Nick to her at the start of their relationship, but is now also a threat, as she (seemingly) can easily leave him and move on, while he clings to their relationship.
Paris is an excellent backdrop and character as it's often seen as a place people go to find themselves. Meg seems in her element, drawing Nick along and enjoying moments of hope, lust, wonder and disappointment in what they have, who they are and what may happen after their vacation ends.
Michell delivers an introspective film, with beautiful, if flawed, characters; much like his earlier movie Notting Hill. Le Week-End is bittersweet and perfect for anyone who enjoys the allure of Paris and the theme of fighting for love. Also coming out on DVD, Blu-ray and/or VOD this week: Bad Words, The Lunchbox, The Raid 2: Berandal and Jodorowsky's Dune. For a full list of home releases, click here. ~ Andrea Hodgins