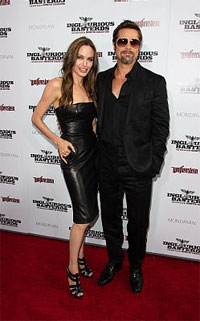 Lately Angelina Jolie's dress code has been rather dull and demure, but at the premiere of Brad Pitt's Inglourious Basterds, Jolie, 34, looked like a smokin' hot mama. Jolie turned heads wearing a form-fitting strapless black leather Michael Kors dress and Dior heels. Her main accessory, of course, was Pitt who donned an all-black suit, while walking the red carpet outside Grauman's Chinese Theater.
Despite more tabloid reports that Hollywood's most famous couple is splitting, Pitt and Jolie were inseparable at the L.A. premiere Pitt's new film. Inglourious Basterds, set in Nazi-occupied France during World War II, follows the story of a group of Jewish-American soldiers known as "The Basterds," who are chosen specifically to spread fear throughout the Third Reich by scalping and brutally killing Nazis.
The Quentin Tarantino-directed Inglourious Basterds hits theaters Aug. 21. Be sure to check out Tribute's interview with Eli Roth who stars in the film next week!