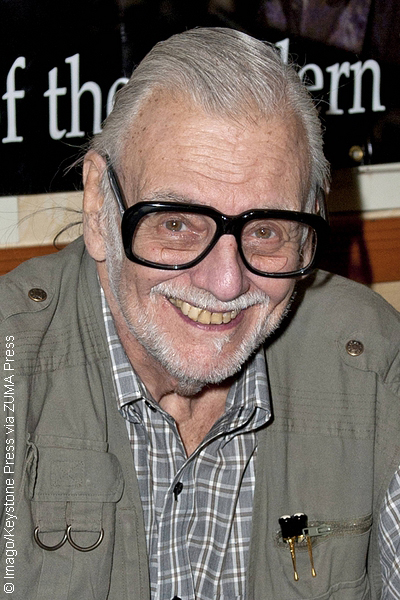 The film industry and horror fans have lost a pioneer. Legendary horror director George A. Romero, who started the zombie craze with acclaimed films such as Night of the Living Dead (1968), has passed away at the age of 77 after battling lung cancer.
A statement from Romero's manager, Chris Roe, states the director passed away in his sleep yesterday (July 16) while listening to his favorite film scores: "Legendary filmmaker George A. Romero passed away on Sunday July 16, listening to the score of 'The Quiet Man,' one of his all-time favorite films, with his wife, Suzanne Desrocher Romero, and daughter, Tina Romero at his side. He died peacefully in his sleep, following a brief but aggressive battle with lung cancer, and leaves behind a loving family, many friends, and a filmmaking legacy that has endured, and will continue to endure, the test of time."
Nigh of the Living Dead launched the zombie genre and went on to become a cult classic. The film was made on a meager $114,000 budget but took in $30 million at the box office. It spawned Romero's other two hit zombie films, Dawn of the Dead and Day of the Dead. So if you're a zombie fan and enjoy shows like The Walking Dead, you have George A. Romero to thank.
Romero wasn't just talented with showcasing the horrors of a zombie apocalypse, though. His other major horror anthology, Creepshow, in which he worked closely with Stephen King, became a hit with fear-loving film-goers, too.
Born in the Bronx, Romero began his career filming shorts and commercials, including filming a segment of the popular children's show Mr. Rogers Neighborhood. Ironic, considering he would go on to become one of the best known horror directors, whose films no doubt scared children (and adults) the world over.
In addition to being a much-beloved director, Romero also worked on video games and wrote comic books — showcasing he was a truly creative and versatile artist. Indeed, the man influenced a generation of creatives in the horror genre, and some of the best, like Stephen King and Guillermo del Toro, are paying tribute to the late director. You can check out their tweets below.
Which is your favorite George A. Romero body of work? Let us know in the comments section below. ~Alexa Caruso 
Sad to hear my favorite collaborator–and good old friend–George Romero has died. George, there will never be another like you.

— Stephen King (@StephenKing) July 16, 2017
Romero has passed away. Hard to find words right now. The loss is so enormous.

— Guillermo del Toro (@RealGDT) July 16, 2017