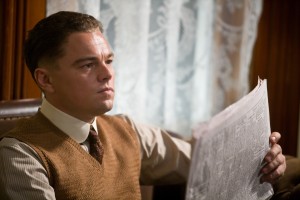 Leonardo DiCaprio stars as the notorious and controversial  FBI leader, J. Edgar Hoover.
(Watch an exclusive interview with Leonardo DiCaprio on  being J. Edgar)
If you were to plan the perfect acting career, you might choose Leonardo DiCaprio as your role model. Incredibly talented, highly in demand and devoted to his craft, DiCaprio has made a series of great career choices, from the romantic rogue of Titanic, to Howard Hughes in The Aviator, to a tour guide of dreams in Inception. He's been making movies for 20 years, but at 36, he's still a relatively young actor. His box office power and acting chops ensure a long career.
Although he has not yet won an Academy Award (he's been nominated three times – his first nod came at the age of 19), his career trajectory suggests an Oscar can't be far away. He has also lived the ultimate Hollywood life, dating supermodels and partying with his famous friends. While DiCaprio's name is constantly in the tabloids, he is fiercely protective of his private life – whether it's a short romance with a young starlet like Blake Lively, or with past long-term relationships with models Bar Refaeli (five years) and Giselle Bundchen (four years).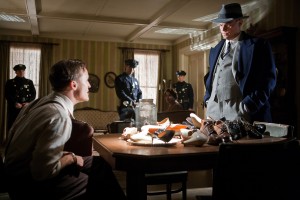 In his upcoming movie J. Edgar, DiCaprio teams up with director Clint Eastwood for the first time. He plays the famed and notorious J. Edgar Hoover, the first director of the FBI. Depending on who you ask, Hoover was either a great hero or a vindictive villain. He considered himself the ultimate American patriot and branded anyone who disagreed with him a traitor. For 37 years, he would bend and break laws to spy on American citizens, including Martin Luther King. Under his command, the FBI used tactics that included planting false rumors about various liberals and activists. He despised John and Robert Kennedy. Three presidents tried, but failed, to have Hoover removed as FBI director. "Sometimes you need to bend the rules a little to keep your country safe," says DiCaprio as Hoover, with considerable understatement. As the movie itself says, Hoover was considered "the most powerful man in America," and that was not always meant as a compliment.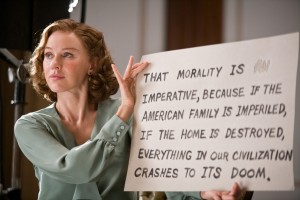 Rounding out the cast are Judi Dench as Hoover's mother, Naomi Watts as his faithful secretary (who spent weeks destroying Hoover's personal files after his death), Jeffrey Donovan as Robert Kennedy and Armie Hammer (The Social Network) as Hoover's right-hand man (and presumed gay lover), Clyde Tolson. Hammer says that working with DiCaprio was a thrill. "I must admit that it's hard to spend that much time working with him and not develop a man-crush on him," he jokingly told a reporter.
The script is written by Oscar winner Dustin Lance Black (Milk), but Eastwood himself did a lot of research on Hoover. "If you're doing a biography, you try to stay as accurate as possible to reality," he recently told The Wall Street Journal, "But you really don't know what was going on in the person's mind. You just know what was going on in the minds of people around him." Eastwood also points out Hoover's contribution to crime-fighting. "He was obviously a very detailed guy all his life, starting as a very young man. He had some great ideas, modern-day investigative techniques [like finger printing and forensic science]. But he also liked the glory of it all."
With Eastwood behind the camera and DiCaprio in front of it, J. Edgar has all the makings of a powerful, truthful and entertaining drama.
—By Tom Jokic