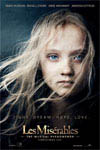 Tony Award-winning British actor Eddie Redmayne is about to make a huge impact on audiences playing Marius in Les Miserables. This is the first time the hit musical has been made into a film and early buzz says it's not to be missed. Directed by Tom Hooper (The King's Speech), it also stars Hugh Jackman, Anne Hathaway, Amanda Seyfried and Russell Crowe. Eddie was thrilled to be part of this production and says making it was an experience he'll remember for the rest of his life. Tribute spoke with Eddie by phone from his home in London, England for this exclusive interview.

What was your first Les Misérables experience?
My elder brother and I were taken by my mom and dad when I was about eight years old. All I remember is I was just desperate to be Gavroche. I just remember thinking he was a complete idol, he was this little rock star. Fast forward 22 years later and I'm making the film. I'm incredibly lucky to be playing Marius, but equally jealous of the incredibly talented Daniel who is playing Gavroche, but I've got over my jealousy.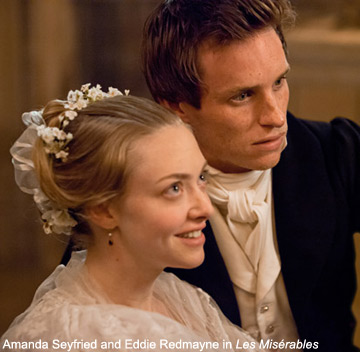 How or when did you know you got the role?
I was on the set of Hick with Chloë Grace Moretz and her brother Trevor and it turned into a karaoke session. I'm one of those people who gets kind of nervous and inhibited, but then I have a few drinks and you can't get the microphone off me—the most irritating kind of person. Anyways, I heard they were making a movie of it (Les Misérables). I put myself on tape, just in my trailer, sang "Empty Chairs, Empty Tables" into my iPhone and sent it to my agent. And that's how it started.
How did you know that the chemistry worked between you and Amanda Seyfried?
The extraordinary thing about Amanda is that she brings such a complicated brilliant mixture of innocence, beauty, wisdom and there's something incredibly sexy about her. She has all these sort of colors and basically she gave all this weight to her character that can appear, on the page, slightly tricky to invest in.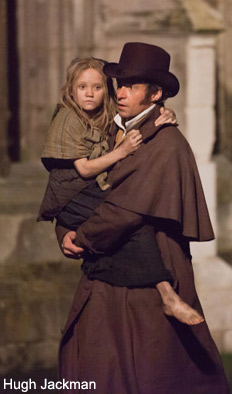 The film has such a wonderful ensemble. Were there days when you were sitting on the sidelines observing?
What's wonderful about Les Misérables is that it's the most fully ensemble piece of work I've ever done, in that everyone's character is of a similar status. So there were lots of days of watching other people's work or methods of working. But the thing that made it perhaps most enjoyable was that for all of us it was something new. So it felt unlike any other experience for everyone involved and I think that kind of lit a fire in our bellies and bound us through filming.
Tell me a bit about being able to sing live and then have the orchestration put in later. Was that scary?
It was incredibly liberating. I've never done a musical besides this one, so the idea of even making a music video seemed daunting. I don't know how one does that. I mean, you're expending 70 per cent of your energy trying to make sure that your mouth moves in time with the playback. We didn't have any of that to worry about, and that meant that you could be completely free, you could change from take to take, you could do all those things that you use in film to make things spontaneous and real to make things and to be live in the moment.
Do you find it important to take on roles that scare you?
I do. Often, it's the stuff that I get offered, that is completely out of my comfort zone, that I'm most proud of. If I was left to choose things I would always go for a safe option, whereas the work that I tend to be more interested by—or perhaps proud of—is the work that's outside of my comfort zone.
With Les Misérables having such a long stage history, did you take a look at performances of other actors who've played Marius?
I sort of knew that the medium was going to dictate a lot and would fortunately allow me to do it fresh. That being said, a lot of the other actors who were the students in my band of men had played Marius in the West End and they were wonderfully generous with their interpretations. But if you've grown up listening to Michael Ball's version, which I have, that in my opinion is the version. I think the interesting thing with a film like Les Mis is that it's still running in London and that original production still has such power. But we're offering a sort of new alternative, which I hope will be interesting.
Was it emotional making this film?
It was emotional for lots of reasons in that everyone was so invested in it. I mean, Annie Hathaway's mom played Fantine, so she arrived on set on day one wearing this cast coat that her mom had been given—I think she had kind of grown up in her dressing room. I remember the day that we were doing my character Marius' big number. It's a pretty visceral piece after all of his [Marius'] mates have died and he somehow he survived, and it's a piece about survivor's guilt really. But there's been so much build up to this one day and you keep hearing people on set saying things like "Did you hear Annie's rendition of 'I Dreamed a Dream'," or "did you hear about Hugh's 'Bring Him Home' or Russell's 'Stars'?" My song was right at the end of the schedule and by that point the pressure was so mounted that you're just thinking "don't screw it up." I had to keep doing it as many times as we could, on my knees so I would know I gave it my best shot.
You go back and forth between film and stage. What satisfaction does it give you being on the stage?
I love the variety of the life. Filming is a very different lifestyle to doing a play, I mean with the theatre I get to work in London and I'm lucky enough to work in New York. It adds a lot of color to your life doing a variety of different work. But one of the good things about theatre is that if you mess it up one night, which you do because you never get it right—
Not you, come on, you're perfect!
(laughs) Absolutely, no bollocks to that. But you never get it right because you're aspiring to this perfect thing, which you never get a hold on. So you get to try and sort it the next night and that's why actors do long runs and can still find excitement in it because you're always trying to coin it or sculpt it. I love the variety, but I also love the camaraderie when you're filming. You live with a group of people and you're a bit of a traveling circus.
What's next for you?
You know what? I don't know. I got to the end of Les Mis and I had done Richard the Third on stage, and Birdsong in Maryland before that and they had all run kind of consecutively into each other. It was extraordinary because they were all things that I was very lucky and proud to be a part of, but I got to the end of Les Mis and was a bit spent. So I've taken the summer off and now I'm promoting the movie. There are a few things in the pipeline, but unfortunately they are things I can't talk about.
~Bonnie Laufer-Krebs