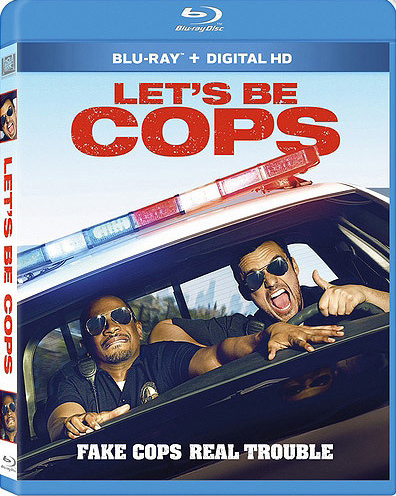 Putting a spin on the typical cop movie, buddies Justin (Damon Wayans Jr.) and Ryan (Jake Johnson) resort to impersonating cops in an effort to compensate for their lackluster careers in Let's Be Cops. The movie is packed with LOL moments as the pair navigates through Los Angeles in borrowed police uniforms and wind up in some serious danger.
The friends are desperately struggling to make something of their lives. Ryan is still living on the money he made from a commercial a few years back and regularly "coaches" (aka bullies) some local kids playing football, because he's still frustrated about failing to make it to the NFL.
Justin holds onto his job as an assistant at a video game design company, despite the fact that his boss hates his ideas. His most recent rejection comes when he suggests a video game about policemen, entitled Patrolman.
Reminiscing about a pact they shared some years ago about becoming successful, the friends come to the conclusion that their time in L.A. is coming to a close. Their loser status peaks when they attend a college reunion dressed in the policemen uniforms from Justin's presentation, only to find that it was not a costume party.
As they leave the party, their uniforms soon provide a newfound confidence, and the feeling washes over them like a superpower. Desperate to hold onto the potential of being someone important, Ryan convinces Justin to continue the charade. He buys a police cruiser online that he re-vamps to look like an actual cruiser and convinces Justin to play along. Justin does, although reluctantly, and finds the uniform helps him land his longtime crush Josie ( Nina Dobrev).
Their new life slowly engulfs them in real-life danger when they go to a distress call, where they meet Patrol Officer Segars (Rob Riggle). Although the stint is enough to scare Justin into retirement, he first tries to save Josie from a man who is harassing her at work. The man turns out to be the leader of the Albanian mobsters, whom Justin and Ryan ran into earlier. The friends run a stakeout to gather Intel on the mobsters.
Damon and Jake have perfect chemistry as longtime friends who both are frustrated by their lack of success in life. Jake's character is refreshingly upbeat, while Damon is skeptical and less than enthusiastic about pretending to be a cop. They take the audience on a wild and hilarious adventure as their shenanigans get more and more dangerous.
The special features include deleted and alternate scenes, a Let's Be Cops camera test with the two leads, the featurettes Brothers in Blue and Real Funny, a still gallery and commentary by director Luke Greenfield and co-writer Nicholas Thomas. ~Nadira Chand