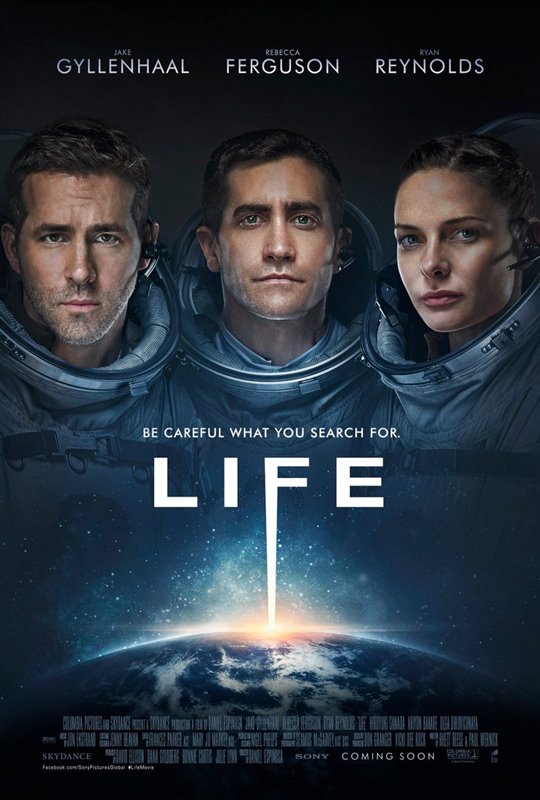 Life follows a team of scientists and astronauts, including Roy Adams (Ryan Reynolds), David Jordan (Jake Gyllenhaal) and Miranda North (Rebecca Ferguson), who board the International Space station on a mission to retrieve the Mars Rover, which is carrying samples of soil.
When they put one of the samples in a petri dish to study it, they discover a rapidly evolving life form. It looks like a plant at first, and the discovery is an exciting one for everyone, including people back on Earth. The excitement quickly dies when the life form, which they've named Calvin, grows extremely quickly and shows signs of aggression. Not only that, it's also far too intelligent for them to contain.
The movie proceeds with battle after battle for the crew to get control of Calvin and survive, keeping in mind that they need to return to Earth without the alien life form, as it would threaten many lives if they aren't able to make certain it stays behind.
All six team members are put to the ultimate test of strength, bravery and loyalty in their battle to protect the people of Earth from Calvin.
Experiencing this roller coaster of action was the highlight of my week, although if you're prone to motion sickness or vertigo you might not appreciate the "floating camera" shots to indicate that the astronauts are living in zero gravity.
The movie had a unique balance of emotion, science, gore and suspense. The use of a team dynamic rather than one protagonist keeps the audience wondering what will happen to each of the characters. The cinematography, with its close-range shots, made it feel as if we were right there with the astronauts.
The movie is filled with several twists, which added to the enjoyment of the film. Ryan Reynolds, who has no shortage of one-liners, delivered some much-appreciated comic relief. It was different seeing him in a more serious role — no complaints here. Jake Gyllenhaal, playing a cautious medical officer, complemented the team's dynamic, as did Rebecca Ferguson in her role as a disease control expert.
Overall, I would rate this film a solid 8 stars. If you're a sci-fi junkie, you will enjoy this extraterrestrial space flick.
If you have seen the film and would like to rate/review it, please click here.
~Brianne Cove