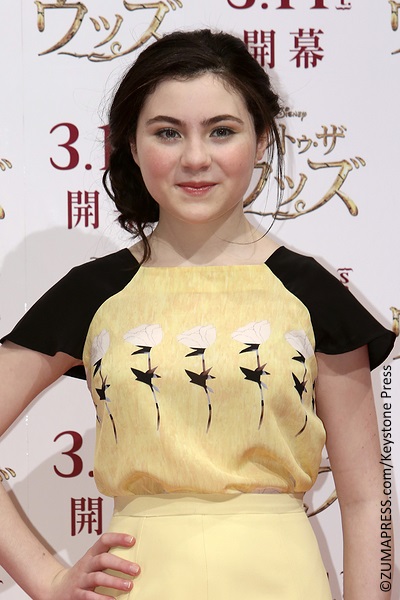 At the young age of 14, Lilla Crawford is already making waves in the industry. She recently played Little Red Riding Hood in Into the Woods and her acting credits also include playing Annie on Broadway. We sat down with the teen to  discuss her love for acting and Broadway and her experience working with A-listers like Johnny Depp and Meryl Streep.
Tell me about the audition process and how you landed the role of Little Red Riding Hood.
I went in for an audition and I got a callback, then I did a Skype audition with Rob Marshall, the director. He asked me a couple of questions and did a couple of scenes from the movie and I got the part.
Did you have to sing a few songs?
I sang "I Know Things Now" for the first audition but he (Rob) had seen me in Annie and that helped a lot.
Did you sing the songs live for the movie or was it recorded?
We did a mixture of both, sometimes we sang live and sometimes we didn't. For example, Anna Kendrick didn't sing live on the steps of the palace because if you watch the movie she's crawling around and jumping around on the stairs so it would have been kind of difficult and would have been a weird sound. One of the things they sang live was "A Very Nice Prince" where they are sitting on the log talking about the prince.
What was it like working with Hollywood heavyweights like Meryl Streep, Emily Blunt and Johnny Depp?
It's great. It's definitely something that I will never forget. Everyone was so nice and talented and it's kind of incredible being in the same room as these people and acting with them. They are all great.
Did you get a chance to interact with them offscreen?
Yes, when we were recording the cast album we were all in the same green room at the same time. That was really cool.
I liked the duet you sang with Johnny Depp, "Hello Little Girl." What was filming that like?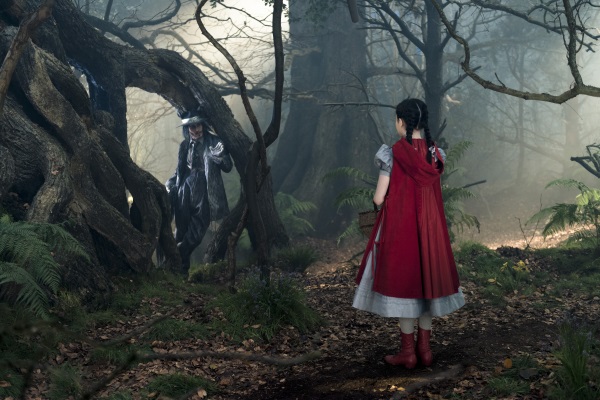 Oh my gosh, that was great. We filmed it over the duration of two days and it was so much fun because Johnny Depp was pulling my cape around and swinging me around. Definitely, really fun.
What was your favorite scene to film?
My favorite scene to film was definitely the scene where we first find out there is a giant in the town and Jack's mother is going crazy looking for him. It's like a big scene with like nine people, almost the whole cast is in it. That was so much fun to film because the whole time we were being silly and goofy.
Your acting is just as amazing as your singing. I want to know if you took acting or singing classes when you were younger?
Definitely, all the time. Every week I would do some sort of class. I was part of a theatre group and I did so many shows with them, at least 15 shows. And I went to three different acting classes and was constantly performing. I joined a choir, I definitely had a lot of experiences when I was younger. I think that helped and that is the advice I give to people who would like to perform when they are older or even now. Everything counts and you should get as many experiences as you can because I did as much as I could when I was little.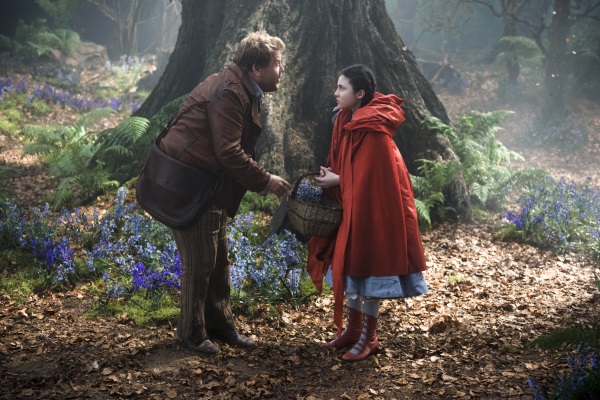 You played Annie on Broadway, what did you think of the newly released film?
Great!! It was amazing. I was actually invited to the premiere and Quvenzhané Wallis, who played Annie, is so cute and such a talented young girl and they did such a great job of the rendition. The music is amazing, Jay Z did a great job. I loved it.
What is your favorite musical and what role would like to play it?
I have so many favorite musicals, every time I see one I become obsessed with it. I love the witch in Into the Woods. She's my favorite character besides Little Red. There is this show called Side Show that was on Broadway and I would love to play Daisy or Violet, I love that. There are just so many to choose from. I'm happy whatever the role I'm performing. As long as I'm working I'm happy.
Are you looking to do Broadway or more films?
Well, I love both but I think now I've done Broadway and then I did a film so I think it would be cool to go back to Broadway, but like I said before as long as I'm performing I'm happy.
Watch Lilla in the Into the Woods trailer by clicking here. The movie is now available on DVD and Blu-ray. ~Marriska Fernandes