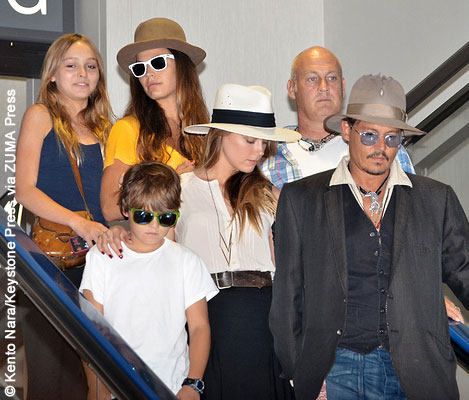 Lily-Rose Depp (pictured at left in blue shirt, with her father, brother and Amber) is no longer staying silent about allegations that her father Johnny Depp was abusive towards his soon-to-be ex-wife Amber Heard.
She posted a throwback photo to Instagram of Johnny holding her as a youngster and the caption she included can be interpreted as her response to Amber's allegations.
The 17-year-old French-American model-actress, who was just named the face of Chanel No. 5, wrote, "My dad is the sweetest most loving person I know, he's been nothing but a wonderful father to my little brother and I, and everyone who knows him would say the same."
Last Friday, a judge granted Amber's request for a domestic abuse restraining order against Johnny, ordering that he stay 100 yards away from her. The judge also stated that Amber has a right to live in the family home.
The restraining order comes only days after Amber, a 30-year-old actress known for her role in Magic Mike XXL, filed for divorce from Johnny. Official court documents cite irreconcilable differences as the reason.
A photograph of Amber with a bruise around her right eye was presented in court on Friday. She was seen leaving the Los Angeles courthouse with a faint bruise. She was apparently hit with a cell phone a week ago when Johnny threw the phone during an argument.
A source told E! News that Amber's request for a restraining order was, "…not about right now. It's an ongoing thing that she needs protection from. She did what she had to do to protect herself."
The source added, "It wasn't an easy decision, but this is the truth. It was very hard for her."
Amber and Johnny, 52,  have been married for 15 months. They met on the set of the 2012 film The Rum Diary.
Johnny, whose latest film Alice Through the Looking Glass opened over the weekend, released a statement via his rep that reads, "Given the brevity of this marriage and the most recent and tragic loss of his mother, Johnny will not respond to any of the salacious false stories, gossip, misinformation and lies about his personal life. Hopefully the dissolution of this short marriage will be resolved quickly."
The couple did not have a prenuptial agreement in place. Reports indicate that Amber is asking for spousal support but Johnny has requested it be denied.
Take a look at Lily-Rose's Instagram post below. ~Matthew Pariselli