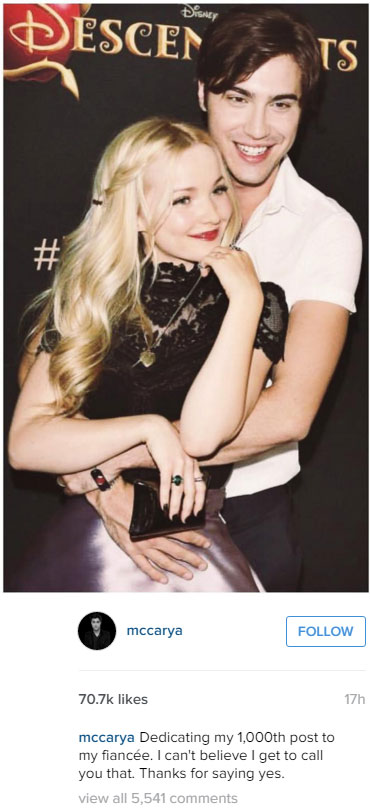 Dove Cameron, 20, who plays both title roles on the Disney Channel hit series Liv and Maddie, and Ryan McCarten, 22, who plays Maddie's boyfriend Diggie, are engaged, according to Ryan,who announced the news on Instagram late yesterday.
Dove, whose real name is Chloe, was cast as the twins on the popular Disney Channel show in 2013 and has also appeared in the Disney Channel movies Descendants and Cloud 9. Both Chloe and Ryan played singing siblings on an episode of the Disney Channel show Austin & Ally last year as well as co-starring in the TV movie R.L. Stine's Monsterville: The Cabinet of Souls.
Ryan wrote on Instagram: "Dedicating my 1,000th post to my fiancée. I can't believe I get to call you that. Thanks for saying yes." Dove responded with her own Instagram pic and the caption: "Calling you my 'boyfriend' never really felt right anyway. fiancée looks better on you." (sic)
The two began dating in August 2013 after meeting on the set of Liv and Maddie. They have also formed a singing duo called The Girl and the Dreamcatcher.
Dove once told Fanlala about their first date: "We went to this park, because he's just like Romeo, and he was just like—I'm so grossed out by how cute he is—but he picked me up one day from my apartment. He had a car and he was a hot older boy. This was back before we were like really, really dating. We were just sort of seeing what happened. He took me to this park underneath a tree at sunset. He brought this guitar and he was like, 'Do you wanna come write songs with me in the park?' I was like, 'OK!…You're what movies are about!'"
At one point, "I leaned in to kiss him on the cheek, and he turned his head really quickly and kissed me, because he knew that I was too shy to just kiss him. So, he like tricked me into it…I don't remember this—because in my mind it was magic and sparkles—but I apparently turned away and squealed and turned bright red."
She added, "He said that was the moment that he knew that he was going to have feelings for me for a long time. He was like, 'I totally fell for you when you freaked out when I kissed you.' He tells that story a lot better than I do because I make myself sound like a gremlin and he makes it sound really cute."