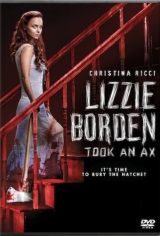 Lizzie Borden took an ax and gave her mother 40 whacks, when she saw what she she had done, she gave her father 41. Does this infamous rhyme ring a bell? It's a jump-rope rhyme that has been passed down through generations. Lizzie Borden Took an Ax is based on a true incident that took place in 1892 in Fall River, Massachusetts. The story follows the Borden family — controlled by judgmental and cold Andrew Borden (Stephen McHattie). He lives with his wife, Abby Borden (Sara Botsford), who shares his dour personality, and his two spinster daughters Emma (Clea DuVall) and Lizzie Borden (Christina Ricci). Before the gruesome murders take place, viewers get a glimpse of this dysfunctional family.
Lizzie, a Sunday school teacher, is an unhappy woman in her early thirties who acts out by shoplifting, lying and stealing from her stepmother. One day, Lizzie finds her father murdered on the couch and taking a deep breath, she gives her best high-pitched scream and tells the servant, "Father is dead. Someone came in and killed him!" Soon the Borden house is filled with police and medical examiners. Within a few hours, Abby Borden's body is found in the room upstairs. Andrew Borden's skull was crushed by 11 blows to the head and Abby had 17 or 18 blows from a weapon that was assumed to be an ax. Speculation follows and Lizzie is put on trial for the murder of her parents. A series of court trials and circumstantial evidence keeps the viewers engaged in this period price.
Lifetime's chilling biopic of Lizzie Borden certainly lived up to my expectations. The bone-chilling crime is graphically depicted and for that, you might need a strong stomach. Every now and then viewers get a glimpe of the ax lifted in the air and blood splattering all around. But it's the explicit scenes and hair-raising background score that build the much-needed tension. Christina Ricci plays Lizzie perfectly, just the way real Lizzie might have behaved back then. Her expressions are spot on and sometimes, give you the creeps. We can only applaud Christina's ability to play a possible psychopath and at times, gather the viewer's sympathy. Clea DuVall plays the older and supportive sister who has her doubts but keeps them to herself. The script was well written with a small demo of what life with the Bordens was like.
It was a treat to watch the drama unfold both in the Borden house and in the court. Though we will never know what really happened that day, many believe that Lizzie was guilty due to the circumstantial evidence, while others, as seen in the movie, dismiss the case because Lizzie was a woman. Lifetime's TV movie, however, makes its position on Lizzie's case quite clear. Also coming out on home release today are: August: Osage County, The Hobbit: The Desolation of Smaug, Justin Bieber's Believe, Paranormal Activity: The Marked Ones, Grudge Match and The Great Beauty. ~Marriska Fernandes