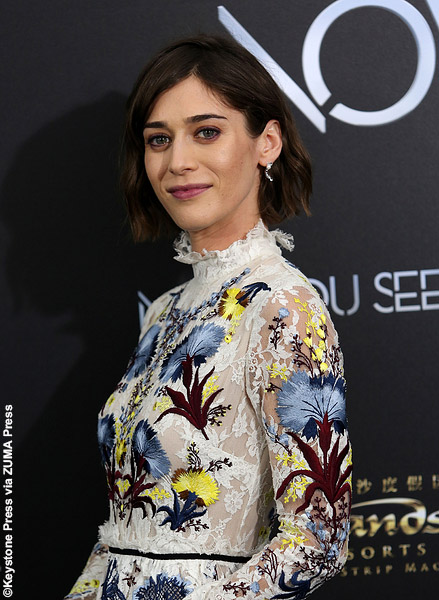 Even though she's surrounded by a cast of almost all men, you won't see Now You See Me 2's new addition Lizzy Caplan falling into the "token female" trope anytime soon. Quite the opposite, in fact.
"I have to say, and this isn't even a straight up comedy — there's other stuff going on — but they gave me so much free reign to improvise and make the character as strange and odd as I wanted, and not the 2-dimensional token female role,"  the actress told PEOPLE at the film's New York premiere.
The Masters of Sex star joins a cast of strong male leads, which include Woody Harrelson, Mark Ruffalo, Michael Caine, Morgan Freeman, and Daniel Radcliffe, in the sequel about a group of highly skilled illusionists.
Early reviews of the film have applauded the NYSM newcomer for her performance, with Leah Greenblatt of Entertainment Weekly calling the choice to cast Lizzy as "one of the sequel's biggest improvements," and that her character Lula provides "a worthy, mouthy foil for her male counterparts."
The Hollywood Reporter's Sheri Linden praised writer Ed Solomon's screenplay for taking "a few well-placed jabs at the idea of the token female cohort," and that Lizzy "puts those digs across with just the right spunk."
The celeb herself admitted that she improvised a few of those digs: "They are all about, 'Why do you think a girl can't do it?' And that was just really how I was feeling in the moment. But they incorporated it into the character, which is fantastic."
Lizzy said if the character were to become the stereotypical "girly magician's assistant," she "would have fought against that," and praised Solomon for allowing her to be a part of the creative process.
"They were really cool and [Ed and I] were working together on the script before we even left to go shoot the movie," the Mean Girls alum said, "so it was unbelievably collaborative the whole time."
Now You See Me 2 hits theaters on Friday.
Are you excited to see Lizzy in NYSM 2? Share your thoughts with us in the comments!