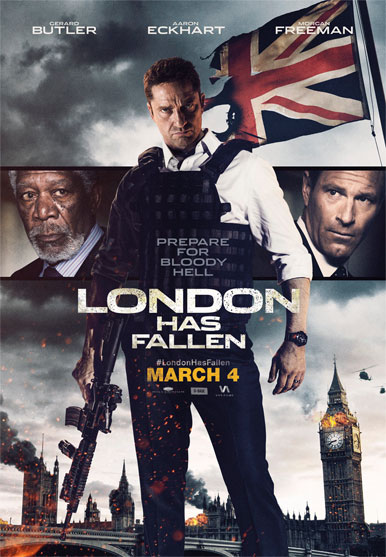 London Has Fallen takes the throne in this week's list of top Tribute trailers. New to the battle of trailers, London Has Fallen takes viewers to England's capital where a terrorist organization seeks to wreak havoc and wipe out several world leaders.
Adding a dose of animated fun to the mix, the trailer for Zootopia took over the second place slot, while the light-hearted comedy Whiskey Tango Foxtrot danced its way to the third spot.
Falling one spot from its third place last week is Gods Of Egypt. It's the second Gerard Butler flick on this list.
Not to be forgotten, Deadpool hangs on to a top five finish this week. The film has performed remarkably well at the box office and its trailer continues to draw interest from Tribute.ca users. ~Matthew Pariselli
Watch all the top trailers here:
1.) London Has Fallen
2.) Zootopia
3.) Whiskey Tango Foxtrot
4.) Gods Of Egypt
5.) Deadpool
London Has Fallen- In this sequel to Olympus Has Fallen, Secret Service Agent Mike Banning (Gerard Butler) is in London for the British Prime Minister's funeral. The Prime Minister passed away under mysterious circumstances and all of the Western World's leaders are called to attend the funeral. Mike discovers that what appears as a well-intentioned funeral service turns out to be a plot to assassinate all the attending world leaders. President of the United States Benjamin Asher (Aaron Eckhart), Banning and an English MI-6 agent are the only ones in the world who can stop the planned terrorist attack and protect the leaders from their potential assassination.
London Has Fallen Trailer
Zootopia- Zootopia is the story of four-pound bunny rabbit Judy (voiced by Ginnifer Goodwin) who decides she wants to become a cop. Despite facing doubt from those closest to her, she pursues her goal and enrolls in the Zootopia Police Academy, where she eventually graduates at the top of her class. Now with a spot on the force in the diverse city of Zootopia, Judy is eager to prove herself and leaps at the chance to help solve a mystery, despite apprehension on the part of Police Chief Bogo (voiced by Idris Elba). To crack the case, she teams up with fast-talking fox Nick (voiced by Jason Bateman) and together they encounter danger, make unexpected friends and enemies, and embark on a journey that ultimately reveals Judy's heroic nature.
Whiskey Tango Foxtrot- To get away from her job and her depressive boyfriend, Kim Barker (Tina Fey), an American journalist, volunteers to travel to Afghanistan and the Middle East to cover the wartime conflict during "Operation Enduring Freedom." She immediately encounters discrimination against Americans, a bevy of other crazy foreign journalists, and finds herself in the middle of explosive situations. Based on the memoir The Taliban Shuffle: Strange Days in Afghanistan and Pakistan by Kim Barker.
Gods Of Egypt- Set, the God of Darkness (Gerard Butler), defeats rival deity Horus (Nikolaj Coster-Waldau) in a vicious duel and blinds him before taking over Egypt and enslaving his people. A mortal named Bek (Brenton Thwaites) allies himself with Horus in an attempt to save humanity.
Deadpool- The origin story of former Special Forces operative turned mercenary Wade Wilson (Ryan Reynolds), who after being subjected to a rogue experiment that leaves him with accelerated healing powers, adopts the alter ego Deadpool. Armed with his new abilities and a dark, twisted sense of humor, Deadpool hunts down the man who nearly destroyed his life.