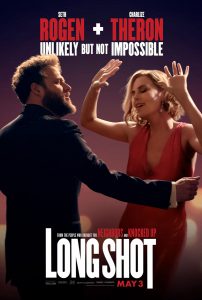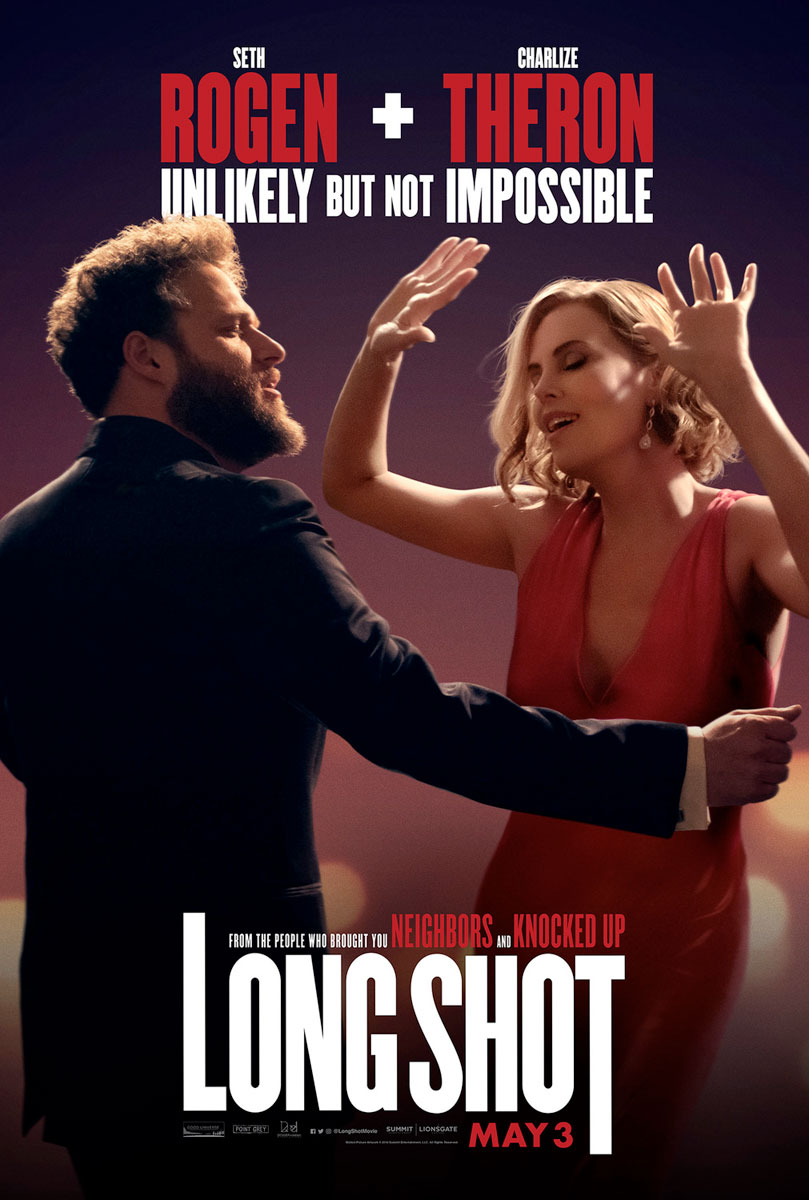 Director Jonathan Levine has made a career out of offbeat comedy films. From his sophomore film The Wackness, about a teenager selling weed to his psychotherapist, to the cancer-centric comedy drama 50/50, to his undead rom-com Warm Bodies, Levine has showcased a penchant for taking seemingly conflicting subject matter and making it entertaining.
That is the case once again with his latest film, Long Shot, which tells a traditional underdog story with a slight twist.
The film opens up with journalist Fred Flarsky (Seth Rogen) going undercover at a neo-Nazi meeting for his investigative report, only to be made while in the process of getting a swastika tattoo.
Escaping his predicament, he shows up to work the next day to find out from his editor (Randall Park) that their publication, The Brooklyn Advocate, has been purchased by Parker Wembley (Andy Serkis) and his media conglomerate. Unwilling to work for Wembley and his propaganda machine, Fred quits his job.
Elsewhere, U.S. Secretary of State Charlotte Field (Charlize Theron) is called into President Chambers' (Bob Odenkirk) office, where he reveals to her that he will not be seeking reelection in favor of making the transition to film as a movie star. Seeing an opportunity in front of her, Charlotte maneuvers the conversation into having Chambers endorse her for the upcoming presidential campaign.
Later that night Charlotte attends a function as part of her Secretariat duties, where she bumps into Fred, who is attending the party as the guest of his friend Lance (O'Shea Jackson Jr.). The two have a history — Charlotte used to babysit Fred when she was in high school and he was in middle school. They catch up, but are interrupted by Parker Wembley, who is also attending the party. Seeing the man who stands against everything he believes in, Fred unleashes a tirade of criticism against Wembley that leaves an impression on Charlotte, who decides to bring him on as a speechwriter. From then on, an unlikely budding romance begins between the two.
For a director who has worked on some of the more offbeat commercial comedies in recent years, Long Shot is arguably Jonathan Levine's most conventional film. As far as rom-coms go, they're a sub-genre of cinema with a tried-and-true formula, with the same conventions and tropes from film to film. It always centers around an unlikely pair who go through the ups and downs of romance with mostly predictable outcomes in the third act. It doesn't leave much room for surprises and it's often to the detriment of the film since we already know how the movie will play out 99 percent of the time. As a result, rom-coms live and die on the strength of their leads and the unlikely duo of Seth Rogen and Charlize Theron surprisingly live up to the task.
There is genuine chemistry between the two actors, who both give solid and surprising performances in this film. Rogen, whose performances are typified by loud and overly expressive ramblings, adds some quiet nuance to his role as Fred. Rogen still plays to the strengths that have endeared him to audiences, but he also adds a quiet and reflective touch to Fred that is refreshing. Theron, on the other hand, has been a mainstay of strong and commanding women throughout her career and that is no different here with Charlotte. At the same time though, she gives her character moments of vulnerability and outright hilarity when paired with Rogen. The two present this dichotomy of physical attraction, but that's precisely why their performances make the relationship believable.
However, while the romance is solid, a rom-com still needs to deliver on the laughs and thankfully Long Shot delivers nonstop in its two-hour runtime. Set in the world of politics, some may be quick to think that as a Hollywood film it only appeals to those leaning towards the left, but Levine and writers Dan Sterling and Liz Hannah do an admirable job of balancing out the jokes and treating both sides equally. As much as Fred goes on tirades against the right, the film also takes digs at the left with its celebrity Democrat in President Chambers and the handsome, but awkward, liberal Canadian Prime Minister James Steward (Alexander Skarsgård) — who is a stand-in for Justin Trudeau.
It's this balanced approach to the film that makes Long Shot such a huge success as a crowd-pleaser. It's not a film that panders to its audiences, but delivers an experience that virtually everyone can enjoy. It's equally appealing to both male and female audiences and is smart enough to never favor one side over the other.
One of the better rom-coms of the decade, it's a great comedy to kick off the summer season. Its finale may wrap things up a little too neatly, but that's to be expected of the genre. What is important is that it will have audiences exclaiming "Oh boy!" at the fun to be had with this film. ~Paolo Maquiraya
If you have seen Long Shot and would like to rate/review it, click here.