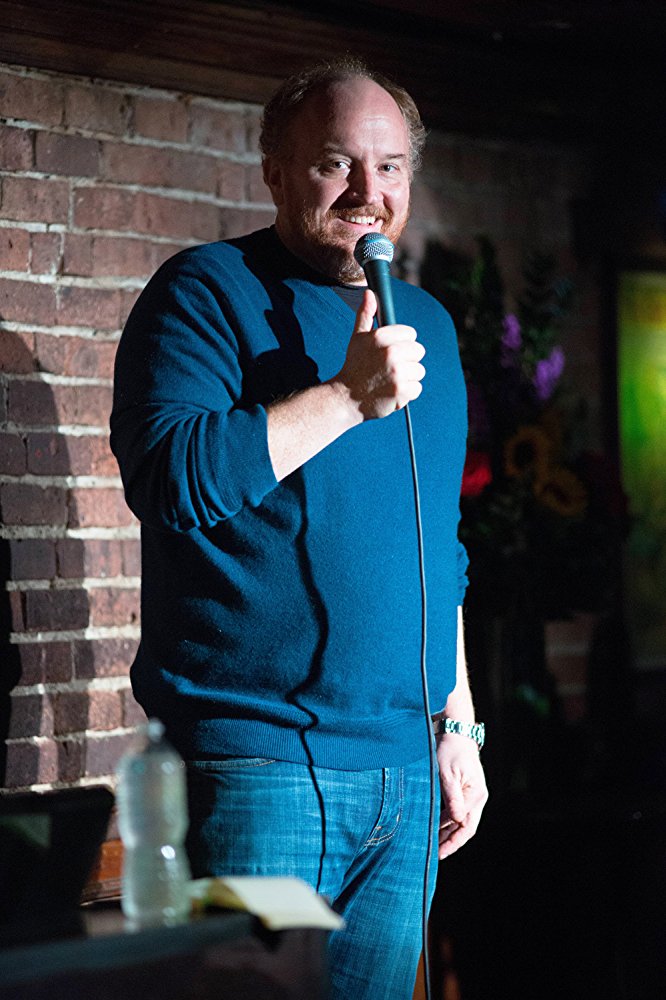 The list of men in the entertainment business who are accused of inappropriate and predatory behavior is growing, with famed comedian Louis C.K. being the latest name.
After years of rumors about his alleged sexual misconduct towards women, The New York Times has published a story that features the accounts of five women who detail their experiences with C.K.
The women, fellow comedians and colleagues of C.K., share eerily similar encounters. They are invited to speak with or see C.K. and when they agree, he allegedly  proceeds to expose himself and begin pleasuring himself.
Two of the women, comedy duo Dana Min Goodman and Julia Wolov, explain that in 2002 they were elated at learning they would be performing at the U.S. Comedy Arts Festival, which is held in Aspen, Colorado.
C.K. was also at the festival and asked the women to join him in his hotel room for some drinks to celebrate their set. Thinking nothing of it, the women agreed, but when they arrived things went down a very different way. "He proceeded to take all of his clothes off, and get completely naked, and started masturbating," Goodman told The New York Times.
Three other women gave similar accounts of their encounter with the famous comedian and star of the once-hit series Louie. One female comedian, Rebecca Corry, alleged that while she was working with C.K. on a television pilot in 2005, he asked if he could masturbate in front of her, to which she quickly and angrily declined. Corry recalls C.K. was embarrassed after she said no and reminded him he had a daughter and pregnant wife at the time: "His face got red and he told me he had issues."
Actors Courteney Cox and David Arquette were producers on the show and heard about Corry's incident with C.K. Cox confirmed the encounter in an email to The New York Times, "What happened to Rebecca on that set was awful…My concern was to create an environment where Rebecca felt safe, protected and heard." Ultimately, though, Corry chose to go on with the pilot to avoid damaging her career.
The resulting fallout over the allegations against C.K. has been swift. His guest spot on last night's episode of The Late Show with Stephen Colbert was scrapped and HBO quickly removed C.K. from their charity special Night of Too Many Stars: America Unites for Autism Programs. Also, last night's New York premiere of C.K.'s film I Love You, Daddy, which premiered at TIFF in September, was quickly cancelled.
C.K.'s film depicts an older male filmmaker having a relationship with a young girl and purposely calls attention to another sexual predator in entertainment, alleged pedophile Woody Allen.
C.K. spoke in September to THR about how Woody Allen was in his mind when making the film: "Woody is an ingredient, along with a whole other generation of dudes who used to go up and down the age line a lot more easily. I grew up with that. [Allen's 1979 comedy] Manhattan is a movie I saw as a kid, and I was like, 'OK, that's what people do.'"
Now, actors in the film are refusing to go through with promoting it. Actor Charlie Day released a statement saying, "I was as appalled as everyone to read the allegations made in the New York Times. I do not condone sexual misconduct and, in light of the allegations, will not be promoting the movie further."
Co-star Chloe Grace Moretz made the same decision earlier, with her rep saying the young actress will not be promoting the film "after becoming aware of potential allegations against Louis C.K."
The distributor of I Love You, Daddy, The Orchard, has also decided to pull the release of the film entirely, which it confirmed in a statement just this morning. The movie was originally set to release November 17.
Louis C.K. has yet to respond to the allegations, though his publicist, Lewis Kay, told The New York Times the comedian "is not going to answer any questions." ~Alexa Caruso