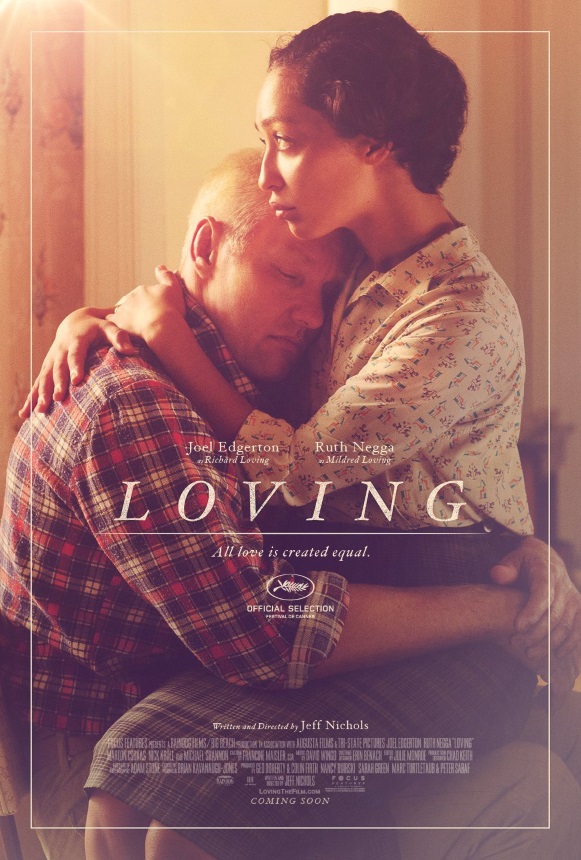 Loving is based on the true story of Mildred and Richard Loving, an interracial couple who simply wanted to start a family together and live a normal life in 1950s Virginia. At the time, in that particular state, it was illegal for mixed race couples to get married. The film slowly unravels the Lovings' journey, which impacted the Civil Rights movement.
The story opens with Mildred (Ruth Negga) telling Richard (Joel Edgerton) that she's pregnant. Richard asks her to marry him and together they travel from Virginia to Washington D.C., where they're able to get married. As soon as they return home, they are arrested in the middle of the night.
While Richard is let out on bail the next morning, a frightened, pregnant Mildred has to stay in prison for the weekend and isn't allowed bail until Monday. At this point, Richard shows great restraint — knowing the consequences of any violence would send him back to prison.
To avoid a five-year prison sentence, their lawyer advises them to plead guilty at their court hearing in order to secure a "lenient" sentence. They are given two options: either dissolve their marriage or leave the state and not return for 25 years.
Reluctantly leaving behind their families, the couple flees Virginia for Washington D.C., where they'll be able to live more peacefully. Five years and three kids later, Mildred isn't content to continue to live so far away from her parents and siblings. She writes a letter to senator Robert F. Kennedy, explaining her situation. The senator passes her letter on to the ACLU. They want to help the couple by changing the law on the marriage ban of interracial couples.
The story underplays the huge impact and importance of the couple's decision to fight the law. The film is void of any rage from the Lovings due to injustice. For instance, when Mildred is arrested, there is more silence and restraint from Richard than you'd expect. Maybe I expected a bit more rage and firestorm at the thought of his pregnant wife in prison guarded by an all-white male staff or the court's decision to exile them for 25 years.
The film's slow-moving pace is parallel with the calm, mild reaction from the Lovings, who don't express any anger or signs of resentment. The only time Richard shows some gumption is when ACLU lawyer Bernie Cohen (Nick Kroll) urges them to go back to Virginia and get arrested so that they could take their case to court and fight it. Richard, who quietly goes along with everything Mildred says, adamantly tells his wife that he refuses to do it.
Nick Kroll provides much-needed comic relief, while Joel Edgerton portrays a man of great restraint – a strong, silent guy who loves his wife and wants to live a quiet life. For her part, Ruth Negga captures the sympathy of the audience and somehow even gets them enraged about the unjust treatment they receive.
For a movie that is about Civil Rights and an important couple who made history fighting against the state, I expected more passion and drama. What I saw was a restrained, slow-paced film. Nevertheless, it's a true story that deserves to be told. With all the Oscar buzz coming, I hope this film gets a shout-out.
Loving is now playing in theaters. If you have seen Loving and would like to rate and/or review it yourself, click here.