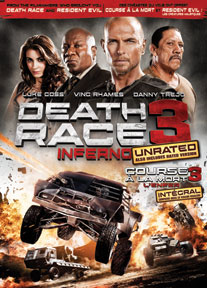 British actor Luke Goss plays convict Carl Lucas, who's known as Frankenstein — a legendary driver in the brutal prison sport called Death Race — in the new home release Death Race 3: Inferno. In this latest installment, Carl has won four races and is one race away from winning his freedom from prison when complications threaten to take that chance away from him. Luke spoke to Tribute about the new DVD/Blu-ray release:
Your character in this movie has to go through a lot of really difficult situations. He lives in a jail cell filled with water and that's the least of it.
Not too pleasant, is it?
Not nice at all! What kind of mind frame do you have to get in to play a role like that?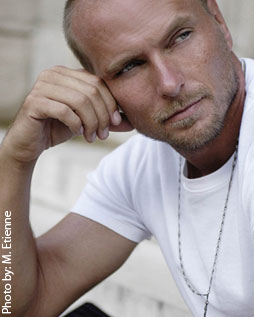 It sounds maybe slightly perverse, but it's so great to try and do, to get into the mind of a guy like that. He's so isolated and also the story lends itself to him having to be somewhat misunderstood and not particularly liked by the people he cares most about in his life. He has to live with the fact that they don't know what he's up to. That cell really was underground and it was in a building that had been transformed beautifully. The great thing about that cell was, it really was wet. It really was damp; it was not pleasant. And I asked if I could be in there 10 or 15 minutes before and embrace the isolation. That's the world that that character lives in. To be honest with you, I do flirt with the method process of acting and I believe in complete internalization and believing it and zero substitution so when you've got sets like that, it really does assist the mindset.
What was it like filming in South Africa?
We did [my] first movie, Death Race 2 there, but the problem was we were hiding Africa because we were trying to make it look like an ambiguous part of the United States. The beautiful thing about this and one of the reasons I said I'd do this film is because I knew we were using Africa as Africa this time and visually I knew that would assist us. It's actually my fifth project in South Africa so there were a lot of people I worked with before. You walk on set first day and they're like, "Yaaayyy!" It's kind of like a mini-Beverly Hills by the shore – Capetown – it's very rustic and beautiful and picturesque.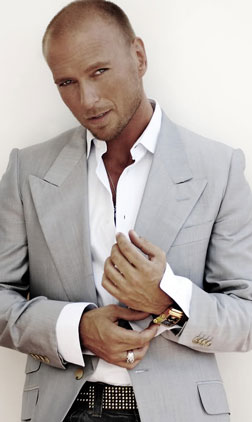 You've filmed all over the world, do you have a favorite location?
I think Prague is probably one of my favorites and also Budapest, I was there filming Hellboy II for nine months so that became a second home. I love Budapest because of the friendships and memories I had there and working with Guillermo del Toro and just being in awe of the city.
Speaking of Hellboy II, you've played some really strange characters. What's been your most challenging role to date?
Well, Prince Nuada in Hellboy, I wanted to take the arrogance out of him when I first read the screenplay. There was a pompousness because he was a prince and he was aloof. I spoke to the stunt guys and I put my head back, looking down my nose and I said, "I don't want to fight like this." So I lowered my head and looked up at him with a kind of sadness and said, "I want to fight like this. If you understand what that means." And he said, "I get it." I didn't want him to be enjoying his capabilities. He's doing it for the cause and for his people and that saddens him deeply. I wanted that to resonate in his movement. I didn't want him to be a show-off in anyway. So to try and achieve that was harder than maybe it sounds.
Is there a role you'd like to play in the future?
To be honest with you, I'm a big fan of playing anti-heroes because they're edgy and they don't wait around for a thank you. There's a strength about those kinds of roles and a kind of a selflessness too and you can make them very internalized and give them issues; let them work through the cracks and the creases and the pain and the struggles and maybe their past memories. On a pure fanboy level, I guess there's not many guys who wouldn't want to play Batman or Bond. And before anyone gets mad at me for saying that, I say that purely as a fanboy, I don't say it as something I think would happen.
I think you'd make a great Bond.
(Laughs) That's kind of you. Thank you very much.
 You play Luther in the upcoming new ABC series Red Widow, what can you tell us about it?
We did eight episodes and Melissa Rosenberg, obviously people know who she is from Twilight, she wanted that, not having to draw a story out over 22 episodes, so we were commissioned for eight and that's what we did. It's a crime/family drama about a woman whose husband gets murdered in their home and it's unfortunately witnessed by the children. Her father's a heavy name in the crime world, and her husband was heavily ensconced in that, so she reluctantly finds herself having to be part of the business with aspirations just to be a soccer mom and raise the kids. Every turn she makes, she just gets pulled in deeper and deeper. It's a very, very well-written crime drama. It really is a very strong character for a woman. I think TV is a great medium for that right now. I'm just proud to be a part of it, to be honest with you.
What's next for you?
I have a movie coming out that I'm very proud of called Interview with a Hitman. It's a character study and a love story about a hitman who finds love very reluctantly and it changes his life dramatically to say the least.
Death Race 3: Inferno is available Tuesday, January 22 on Blu-ray and DVD. Extras include an alternate opening, pocket BLU app, deleted scenes, a making-of featurette and more. Other releases include: End of Watch, The Paperboy, Searching for Sugar Man, For a Good Time, Call… and Nobody Walks.