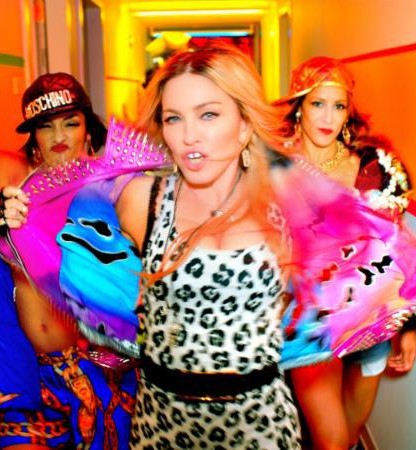 Queen of Pop Madonna released the new music video for her single "B**ch I'm Madonna" on TIDAL on Wednesday, just days after the teaser was posted on several of her social media accounts.
The star-studded music video features a slew of celebrities from music, movies and fashion and even borrows some elements from the music video of Taylor Swift's "Bad Blood." Madonna's video was directed by longtime collaborator Jonas Akerlund and celebrity cameos include Nicki Minaj, Beyonce, Katy Perry, Miley Cyrus, Rita Ora, Chris Rock, Alexander Wang and even Kanye West.
There are unbeatable signature moves from Madonna's early work such as Beyoncé doing the "Vogue" dance, and a burst of color and fashion as the A-list stars bring down the house. Madonna's video comes weeks after Taylor Swift dropped her "Bad Blood" music video, which featured cameos from Jessica Alba, Zendaya, Ellie Goulding, Lena Dunham, Kendrick Lamar, Selena Gomez, Ellen Pompeo, Mariska Hargitay, Cara Delevingne, Cindy Crawford and Karlie Kloss, among others.
"We Go Hard Or We Go Home!" tweeted the "Material Girl" singer to announce the debut of the video. –Maria-Josee Martinez