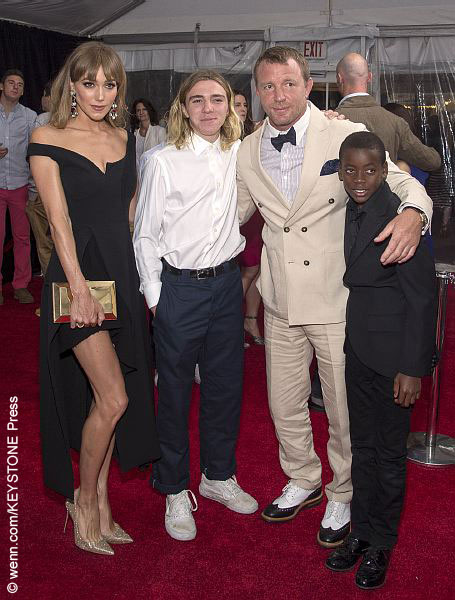 Madonna's son, Rocco, 15, boarded a plane to London earlier this week to stay with his father, Guy Ritchie, against his mother's wishes. According to the New York Post's Page Six column, he reportedly refused to spend the holidays with his mother.
Madonna went to court yesterday to force her son to return to New York City, where they live, and Manhattan Supreme Court Justice Deborah Kaplan ordered Rocco to come home. However, Ritchie's lawyer, David Typermass, reported that Rocco, pictured at left with his stepmother Jacqui Ainsley, his father and his younger brother, David, will not be returning to the U.S. anytime soon, regardless of the court order.
Rocco had been on tour with his mother for two months straight as she performed her Rebel Heart concert tour, and she admitted to EW.com earlier that she'd asked him to appear with her on stage, but he'd refused.
Rocco apparently has had enough of the touring lifestyle and has decided to stay with his dad for the time being.
A source told the New York Post: "The boy said he didn't want to stay with her. He's not getting along with his mom, which is not a surprise for a child that age."