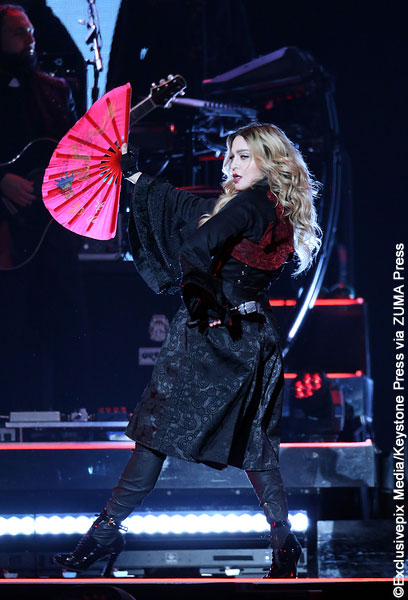 Many fans were left stranded after Madonna showed up over two hours late to her concert in Brisbane Wednesday night.
The show was set for 9 p.m., but the Queen of Pop didn't show up until 11:22 p.m., causing a lot of concert goers to miss the last train of the night.
Granted, Live Nation (promoters of the Rebel Heart tour) pre-warned ticket holders that the show wasn't guaranteed to start at 9 p.m, but told them the latest it would start would be 10:30 p.m. Because of the extreme tardiness, many fans booed her and were subsequently offered refunds.
One less-than-happy fan tweeted after the show: "It doesn't make you more of a rock star to be late to your own concert. It makes you an inconsiderate diva."
When she did take the stage, the performer failed to apologize to the crowd and flippantly remarked, "It's you people that get here early, that's the problem. Stay home, do your hair and makeup, have a tequila. Roll yourself a fat one."
The pop legend then put on a show that, at best, could be described as sloppy. While performing "Like a Virgin," she appeared disoriented and noticeably less than coordinated.
This is not the first time the 57-year-old superstar has been tardy to one of her shows. Earlier this month, fans in New Zealand were outraged after she took to the stage over an hour late.
Prior to that, she arrived for her performance at 10:45 p.m. — nearly three hours late — during a concert at the SM Mall of Asia Arena in the Philippines.
And in January, she was two hours late for a show in Atlanta, the third time in one week.
Madonna will be performing again tonight in Brisbane, and Live Nation made sure to state on their Facebook page: "Following a late start last night, fans should note, the timing for tonight's performance may also be delayed."
Fans were also warned about the 12:17 a.m. final train service, "We encourage concert goers to keep this in consideration when making arrangements to get home safely."
The superstar took to Twitter after last night's show to post a message to her over one million followers, in what may be an excuse for her lateness: "See you tonight Brisbane!!! Wanted to be perfect for you!!! And we had so much FUN! ❤️ #rebelhearttour."
~Shelby Morton