Magical Cavalia Odysseo debuts tonight in Mississauga
By Alexandra Heilbron on June 21, 2017 | 3 Comments

Cavalia Odysseo debuts its run in Mississauga tonight at the big white tent next to the Hershey Centre in Mississauga.
Featuring 65 horses and 50 artists (riders, trainers, acrobats, aerialists, dancers, musicians and stilt walkers), the show is truly a spectacle — you'll never see anything like it anywhere else in the world.
Combining equestrian arts (jumping, trick riding, dressage, liberty and more) with acrobats and dancers, audiences are transfixed as dozens of horses arrive on the stage, surrounded by lush forest. They move with precision in unison, then canter through water in a herd around the gigantic stage.
That's just one of the scenes of this magical show and the joy you feel while watching it can't be fully described — you have to see it to understand how breathtaking this spectacle is.
The horses are obviously extremely well-trained and according to Cavalia founder Normand Latourelle, they're also very well cared for, with their stalls set up in each city in the exact same place of the tent each time, with the same horses on each side, so they don't really realize that they're in a different city. Also, while the tent was being set up, the horses had 10 days of rest and relaxation at a nearby barn, where they frolicked in paddocks filled with lush grass.
Watch the video above to see clips from this amazing show as we talk with Normand Latourelle, equestrian Chelsea Jordan, and meet palomino quarter horse Lawson up close.
Don't miss Cavalia Odysseo — this is the last time the show will be coming to the Greater Toronto area. Click here for more information and for tickets. ~Alexandra Heilbron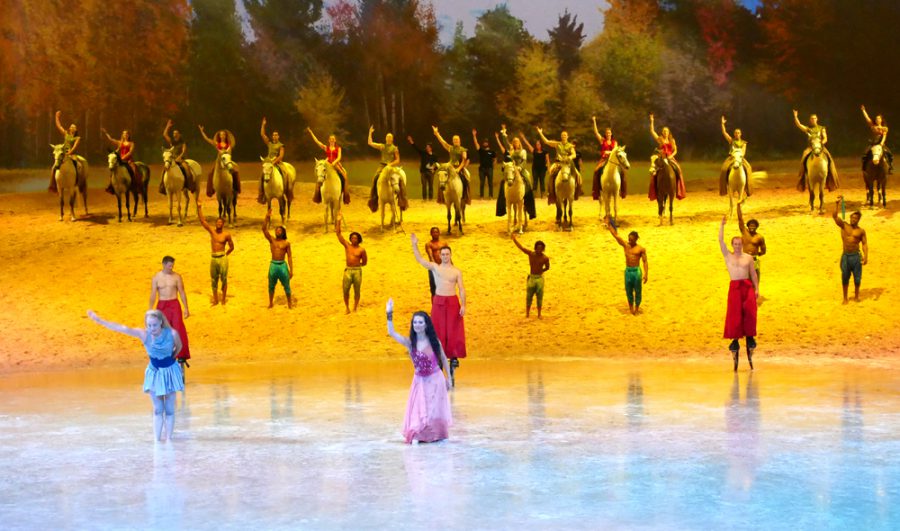 ---
---
---
---