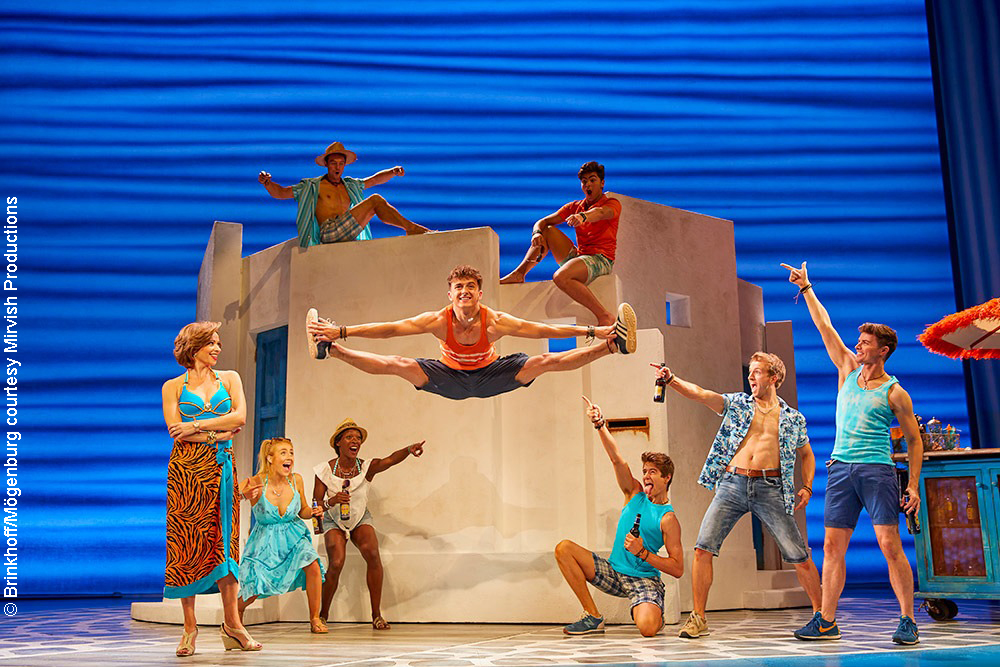 I have to admit, I've never seen Mamma Mia! live on stage. I haven't seen the movie version either, so I wasn't sure what to expect.
From watching clips of the movie version, I had a feeling it might be a little cheesy. It starts off with a euphoric Sophie (Lucy May Barker) anticipating her wedding to Sky (Phillip Ryan) and showing her equally excitable friends her mother Donna's diary, which tells of three different suitors during the time Sophie would have been conceived. I began to be afraid I'd been right about the cheese factor.
However, the musical quickly took a turn for the better as soon as Donna (Shona White) reconnected with her two girlfriends from back in the day — Rosie (Nicky Swift) and Tanya (Helen Anker). Their friendship felt genuine through their jokes and teasing, and the quirky energy these three women exuded livened up the stage, bringing about the first real laughs from the audience. Each woman had an entirely unique personality and each was perfectly cast in her role.
The story is about Sophie trying to find out which of the men could be her father, so she invites them all to her wedding, not expecting all three to show up. They do, however, and each one is completely different. The most entertaining was Matthew Rutherford as Bill Austin, the free-spirited, exuberant writer. His antics stole several scenes.
Having said that, the entire cast is filled with hams, and I mean that in the best way. Each cast member puts so much energy and funny bits of business into their performance that you don't know who to watch — they're all so entertaining.
Matt Jordan-Pidgeon definitely drew all eyes in his role as Pepper, the sexy but oh-so-young friend of the groom, who gives his all as he goes after women, including the much-older Tanya, in a hilarious song/dance sequence.
The entire group of young men playing Sky's friends showed incredible talent as dancers, wowing the audience as they did flips and other stunts wearing unzipped shorty wetsuits.
I noticed almost the entire audience bopping their heads along with the catchy ABBA tunes — I've honestly never witnessed that at a musical. I even heard some audience members singing along.
It made for a really fun evening, which reached an even higher note during the encore, when Donna and her friends donned ABBA-inspired costumes to perform "Dancing Queen," followed by Sam, Bill, and Harry in similar costumes singing along with the rest of the cast to "Waterloo."
The opening night audience was on their feet, clapping and singing during the entire finale and encore, leaving them smiling widely and leaving the theatre in high spirits.
Although I've never seen Mamma Mia! onstage, I can't imagine a better cast or a better production of this musical. Make sure to see it while it's on — Mamma Mia! runs only to August 19, 2018 at the Ed Mirvish Theatre at 244 Victoria Street (Yonge/Dundas area) in Toronto. Click here for more information and/or to buy tickets. ~Alexandra Heilbron