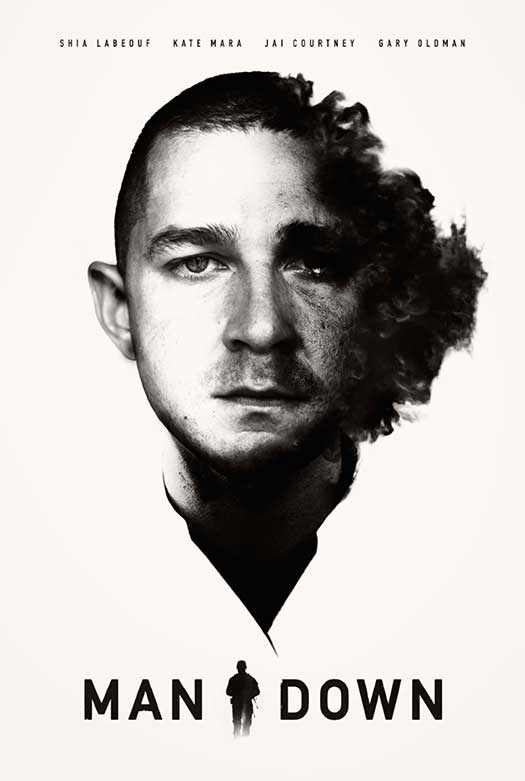 The epic teaser trailer for Man Down hit the interweb this week and left a lot of fans questioning: What happened in that room?! Performance artist Shia LaBeouf stars as a U.S. marine who finds himself under interrogation by Captain Peyton (Gary Oldman) after a mysterious event may or may not have led to the death of his friend (Jai Courtney).
Oscar-nominee James McAvoy is (literally) like you've never seen him before in the ultra-creepy second trailer for M. Night Shyamalan's Split. The highly anticipated horror thriller follows three girls who are kidnapped by a man with a whopping 23 personalities, a couple of which include an older woman with a fondness for tea and a nine-year-old boy named Hedwig.
The second trailer for Nocturnal Animals features an all-star ensemble cast including Amy Adams, Jake Gyllenhaal, and Michael Shannon, while the teaser trailer for Gore Verbinski's psychological thriller A Cure for Wellness offers up some of the most deranged imagery you'll see this pre-Halloween week. ~Shelby Morton
Check out all the latest trailers below:
1. Man Down
2. Split 
3. Nocturnal Animals
4. A Cure for Wellness
5. Frank & Lola
6. Kill Command
7. The Monster
8. My Dead Boyfriend
9. Miss Hokusai
Man Down: Former U.S. Marine Gabriel Drummer (Shia LaBeouf) reflects on his time serving his country alongside his best friend Devin Roberts (Jai Courtney). The two shared many experiences, both good and bad, but their time together was ultimately ended by a horrific experience. Gabriel can't put the images of the past out of his mind, especially when his superior, Captain Peyton (Gary Oldman), questions him about what happened in the room where Devin was killed. Gabriel can't speak about it, and Peyton wants to know why.

Split: As three teenage girls wait for their father to finish putting bags into the trunk of their car, a strange man gets into the driver's seat. His name is Kevin (James McAvoy) — a seriously mentally ill man with 23 personalities, including a vicious psychopath called The Beast. He kidnaps the girls and shuts them away in a locked bunker. One of the sisters, Casey (Anya Taylor-Joy), realizes the only way they can get out is to convince one of Kevin's alter egos to let them go.

Nocturnal Animals: Susan (Amy Adams), an unhappy art gallery owner in a crumbling marriage receives a package from her ex-husband Tony (Jake Gyllenhaal), whom she left 20 years earlier. Inside is a book manuscript, which he notes that she inspired him to write, and he asks for her opinion. With her current husband away on a business trip, Susan quickly becomes obsessed with the script, which revolves around a man whose family vacation turns deadly after his wife and daughter are abducted. Susan interprets the violent thriller as a secret threat of symbolic revenge, and winds up confronting some dark truths about herself.

A Cure for Wellness: A man (Dane DeHaan) travels to the Swiss Alps to retrieve his boss from a "wellness spa," only to find that his boss has vanished. He is then trapped in the facility, and begins to realize that the staff have a far more wicked plan than to simply improve the health of their patients. Mia Goth plays a longtime spa patient who is oblivious to what horrible things the spa director has prepared for her.

Frank & Lola: In the neo-noir drama Frank & Lola, Frank (Michael Shannon), a talented chef living in Las Vegas, meets Lola (Imogen Poots), a beautiful and mysterious young woman new to the city. Frank, immediately drawn to Lola, does everything in his power to woo her. The two fall in love and enter into a deeply passionate relationship. But what began as a fairytale romance soon turns into a story of jealousy, obsession, and distrust, as Lola's twisted former life comes back to haunt her. Blinded by his love for her, Frank attempts to save his distraught girlfriend from her past.

Kill Command: The sci-fi action thriller Kill Command puts humans and androids in an epic stand-off. Set in the future, an elite group of U.S. Marines is sent to a remote island to inspect battle drones that have been placed there. One member of the team is Mills (Vanessa Kirby), part human, part android. As the group begins encountering the drones, it becomes clear that the machines aren't just meant to be observed, they've actually been programmed to execute a deadly agenda that puts a target on the backs of the humans.

The Monster: The horror thriller The Monster follows a divorced mother (Zoe Kazan) and her young daughter (Ella Ballentine) who must make an emergency road trip to see the girl's father. As they drive along country roads on a stormy night, a collision leaves them shaken, but not seriously hurt. Their car, however, is dead, and as they try in vain to get help, they come to realize they are not alone on these desolate back roads — a terrifying evil is lurking in the surrounding woods.

My Dead Boyfriend: Mary's life has been defined by a string of temp jobs and a half-hearted attempt to become a writer. But all that changes when she comes home to find her boyfriend dead in front of the TV set. During her misadventures in trying to get rid of his body — accidentally becoming the bassist in a rock band, bonding with the dog he left behind; awkward encounters with numerous ex-lovers — Mary discovers there was much more to her couch potato boyfriend than she knew in the comedy My Dead Boyfriend.

Miss Hokusai: As all of Edo flocks to see the work of the revered painter Hokusai, his daughter O-Ei toils diligently inside his studio in the animated adventure Miss Hokusai. Her masterful portraits, dragons and erotic sketches — sold under her father's name — are coveted by upper crust Lords and journeyman print makers alike. Shy and reserved in public, in the studio O-Ei is brash and uninhibited. But despite this fiercely independent spirit, O-Ei struggles under her father's domineering influence.