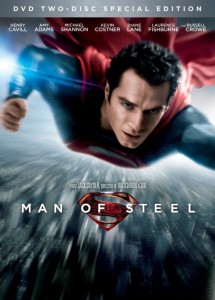 As a new era of comic-book adaptations goes into full swing, it is only fitting that one of the most beloved and well-known characters in the medium should reemerge on the big screen. Following the financial and critical success of The Dark Knight trilogy, Christopher Nolan has been tasked with overseeing another recreation of an iconic superhero with the help of writer David S. Goyer and director Zack Snyder. In Man of Steel, we are introduced to the fully imagined world of Krypton that is home to the extraterrestrial race called Kryptonians. Their planet edges towards destruction due to an unstable core and as his people face imminent extinction, scientist Jor-El decides to protect his newborn son Kal-El by sending him to Earth. After his ship lands in Smallville – a small town in Kansas – he is adopted by Martha and Jonathan Kent, who name him Clark. He grows under their care and begins to discover his powerful gifts, prompting him to explore and understand his origins.
Henry Cavill's turn as the titular superhero is physically convincing as he dons the red cape with an accentuated upper body and strong features. However, despite the suitability of his purposeful physique, his performance lacks emotional resonance. Growing up in a human environment with an otherworldly origin provides a compelling foundation for his character, but it never gets off the ground. This contrasts Russell Crowe who, in addition to his physical believability, embodies the dispassionate Jor-El effortlessly. Amy Adams is charismatic when necessary as the Daily Planet journalist Louis Lane and Michael Shannon, best known for his dark, conflicted characters plays the megalomaniac General Zod with appropriate menace and villainy. There are also solid supporting performances by Kevin Costner, Diane Lane and Laurence Fishburne.
Director Zack Snyder handles David S. Goyer's script with an apt eye for spectacle but doesn't provide a consistent viewing experience, only scratching the surface of relevant themes. His insistence on exploration without exposition isn't helped by the 142 minute running time, which attempts to balance the action and story as opposed to allowing them to inform one another. However, despite Snyder's faults, there is an inescapability of the need to represent the extremity of Krypton and Kal-El – he is only subtly referred to as Superman in the film. Unlike Nolan's Gotham City and Batman, Snyder is tasked with realizing an entire planet and convincingly portraying the abilities of Superman without being cartoonish or haphazard. He doesn't always succeed to this end, but the visual experience is satisfying when he does.
Although Man of Steel is convincing as a superhero blockbuster, it won't prove to be as memorable or highly regarded as Nolan's The Dark Knight, but despite this it should still be viewed on its own terms. The insistence on special effects is not misguided, but rather a byproduct of what needs to appear on screen: heat and x-ray vision, superhuman speed and the world of Krypton. Snyder has proven successful at adapting 300 and Watchmen for the big screen and despite some minor drawbacks, Man of Steel is a worthwhile ride. ~Raj-Kabir Birk