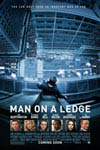 Action star Sam Worthington had his work cut out for him on his latest film, Man on a Ledge. He spent numerous days shooting his scenes on an actual ledge 20 stories high atop a New York hotel.
In this exclusive video feature, Bonnie Laufer from Tribute chats with Sam and his co-stars about working on this movie and their fear of heights.  She also gets a taste of what Sam had to endure by accepting his dare!
Man on a Ledge opens January 27.