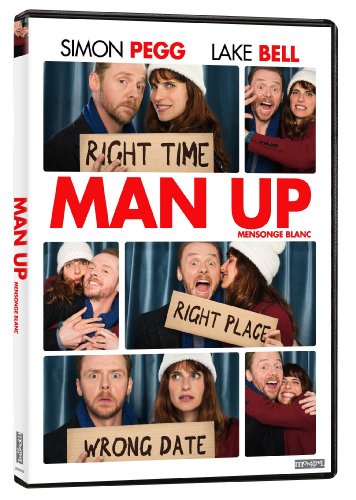 Man Up might sound like your regular cup of romance stirred with comedy, but this is different. The intense energy and crackling chemistry between lead actors Simon Pegg and Lake Bell will make you laugh out loud. The British-French romantic comedy follows 40-year-old divorcé Jack and 34-year-old single lady Nancy in a case of mistaken identity.
Let me set the stage for you. Once upon a time there was a distraught, single woman in her mid-thirties named Nancy, who was having a hard time finding a decent life partner. She hated the set-ups created by her sister, because they were usually disasters. When on a train to attend her parents' 40th anniversary, she winds up chatting with Jessica, a young girl who raves about this self-help book on love. Nancy isn't one to fall for those books. But when getting off at her station, Jessica accidentally leaves her book with Nancy. Nancy picks up the book and runs to find the very perky book owner.
Little does she know that Jessica was meeting her blind date, Jack, and they would recognize each other with that book. Boom! You see where this is heading? Jack mistakens Nancy for Jessica, a 24-year-old triathlete. Does she cough up the truth? Heck no. Nancy just rolls with it and is all the while trying to figure out who is this Jessica that she is supposed to be.
Do they have a lot in common? Of course…not. But Nancy pretends to because she is actually enjoying herself. They both are quick-witted and have an undeniable chemistry, although they are worlds apart. The question is, what will Jack do when he finds out the truth?
This movie brings together an unlikely couple who immediately bring their wits and comedic chops to the dating table. The film takes a look at modern romance and blind dates, which might be a tried-and-true concept seen a dozen times in several films, but Simon Pegg and Lake Bell surprise you. They definitely exceeded my expectations and I enjoyed the spot-on quips and quirky bits this couple rolled out.
Lake has always been a comedic genius and her work in the voiceover world definitely comes across as she channels a British accent. You start to root for her as the film goes on. Nancy comes across as your average girl with her own set of problems, completely relatable, of course. Simon is an unlikely lead rom-com actor but he starts to grow on you, with his great timing and the ease with which he delivers his one-liners. In addition to a great story, I'd say Man Up is a must-watch for the brilliantly timed performances by Lake and Simon.
Moral of the story? Single ladies, there's hope for you too. I'm not saying steal someone's blind date (unless that's your thing), but grab a friend and watch this one for the laughs!
DVD features include Gag Reel, Simon and Lake Interview Clips and The Seven Beats of Man Up.
~Marriska Fernandes