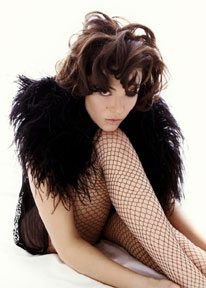 Mandy Moore is simply glowing. Sure, it's no doubt in part due to the fact that she's still in the honeymoon phase after recently tying the knot with her alt-country rocker husband Ryan Adams. But something else has added a twinkle in her eye: her new album.
During an interview at Toronto's Hazelton Hotel, Moore becomes wide-eyed and positively radiant when talking about making Amanda Leigh. And where most of today's Hollywood stars are competing with each other becoming multi-hyphenates, Moore has opted to hone her skills in what she does best: music. Yes, she is an actress and has dipped her toe into the world of bubblegum pop (she was 14 after all!), but she has refreshingly emerged into what can now be described as an alt-country/folk/pop artist.
—By Toni-Marie Ippolito
Congratulations on the new album! How do you think you've progressed to get to where you are now musically? This record is quite a big change for you.
Moore: Well I mean, I was doing music 10 years ago and when I started that it was all fine and well and it was a part of a bigger scene of pop music during that time but it wasn't necessarily reflective of who I am or what I wanted to do. So I took my time and fought my battles and eventually got to the point where I could make Coverage, which was a full cover record a few years ago. I think that's when I started to perhaps show a little bit of evidence that this is more of a direction that I was moving in. And really, it's just that I'm passionate about music and I like writing and making records and going on the road. It's as simple as that. It's an evolution. I have fun doing film stuff and I think people are either still surprised that I'm still making music with the last record, or maybe they didn't even hear the last record and they're hearing of Amanda Leigh and they're still confused like, "Wow you did music when you were 15 and now you're doing music again. Why!?" and I'm like, well there were a few other little baby steps in between to get to this point but I wouldn't be making music if I didn't really love it because I've had a tiny bit more success than the others.
Not everybody does it for the passion these days!
Moore: Yeah, it's a little mind-boggling to me.
You named this album Amanda Lee, which is your full name. How personal is this record for you?
Moore: It is personal. I would be remiss if I were to say it's not autobiographical in many ways, but I think I also have a lot more distance in my writing this go-around from how I feel about certain situations. The last record was written over a three or four year period of time and it was hard to kind of connect to some of the sentiments and emotions conveyed in certain songs because I was kind of beyond it at that point. I feel like it's just about different things in my life and different experiences and how I felt about them and why. So I was very careful to, I don't know, say exactly what I wanted to say because I know now what it's like to go on the road and sing those songs every night and all of that kind of factors in when you start the writing process.
You've been on movie sets. And just like when you're cast in a movie role and set to star with someone that you don't know, you don't know if the chemistry's going to work. With Amanda Leigh, you've co-written these songs, and it's personal for you too. How did you know that this was going to work?
Moore: I didn't! In fact, often times co-writing is a really just explosive experimentation because it can blow up in your face. It's not even like two egos coming together; it's really just about being able to find yourself on the same page with someone else. You can have the best of intentions and it just doesn't work, like you can't get there.
Would you cut off a professional relationship if it didn't work?
Moore: Oh absolutely. I have before! Sometimes with good friends it's like, "Let's just cut our losses. We tried, and today wasn't the day," and you know in the back of your mind that it's probably not going to work out. But I was very lucky that I met Mike Viola. I have a friend and we were talking about music and writing and the music that we love to listen to, and she was like "Have you met Mike Viola? 'Cause he just moved here from New York and I've been friends with him forever and he has just the same sensibility that you do with melody and the music that you guys like."
You were matched up!
Moore: We were matched up! (laughs) Musically matched up! And it was honestly so spot-on because I loved him immediately and I knew. There's something very open and contagious about his spirit and his enthusiasm for music. And he's been doing it for a long time, and he's so talented in his own right as a singer-songwriter. He's such a proficient musician. He plays everything just about on the record.
It sounds like a simple writing/recording process. So much so that Amanda Leigh seems very organic.
Moore: It was. It was very organic. Everything was tracked live down in engineer Ducky Carlisle's basement. We came with all the songs written and we didn't have to stop; there was no budget restraints where we only have X amount of days in the studio or to pay for the musicians to come. We were at his house and Mike was playing and then Ducky was playing drums, and so when we wrote "Nothing Everything" we just went right ahead and cut it—we wrote it in the morning and by the end of the evening the song was pretty much done. It's the only way I want to make a record now, from now on. It was isolating in the best possible sense because you felt like you were down in the rabbit hole, not as close to the real world and no cell phone reception and all of that stuff. You were in like a scientist's laboratory and you just could really experiment and not feel like you were exposing too much to anybody. And it was very comfortable. And the best experience I've had, just making a record in general but recording vocals; I sat in a chair and sang the entire record. In a chair, sitting down! And we were in a basement in one room and Ducky was over there on the computer and Mike was sitting there on the couch while I was cutting my vocals, so I wasn't in a vocal booth isolated from everyone. It was so comfortable and low-key and just cool.
Do you ever sit there and think "Man, I can sing!" Because you dove into the world of acting people may have forgotten.
Moore: More than anything you have the realization of like "Oh my God, I love to sing!" I just wanted to sing it over and over and over again and you're working on a particular song, it's so much fun! I think making this record in particular was fun because I love singing with Mike. Honestly I could just sing Everly Brothers songs with him in harmony for hours. Like I just love it. And I loved singing all of the background harmonies with him and just like doing all the goofy things. All that stuff was so my cup of tea. I don't want it to end!
With all of the mainstream pop that's being churned out today, where do you think this record fits? It may not be for everyone. Do you care?
Moore: No, no. I've made those records in the past, and very unhappily, and I figured I fought hard enough to get to that point of having creative control that I didn't want to relinquish it to, I don't know, make music that fell under somebody's definition of what is radio-friendly and 'pop-y' and whatnot. I mean, I think with "I Could Break Your Heart Any Day of the Week"—when Mike and I wrote that, we both sort of sat back and said, okay if there is a single or focus track on the record at least we've taken care of that. It's very catchy and melodic and it's just like a straight-ahead pop song. I love music like that too. But the rest of the record I felt like we really were allowed just the freedom to start an album off with the thought that—"There can't be any rules"—otherwise what's the point? Yeah, I'm not concerned with radio or selling records or something. Just enough success to me is enough support to be able to go on the road and to tour.
One of the things I actually like about you and enjoy, is that you kind of pop in and out of the scene. You're not over-exposed, which is wonderful. You've always maintained this balance between music and acting. Any acting roles on the horizon?
Moore: I think once the record's out and we go on the road with it, there are a few things that are getting lined up for later this year that will hopefully get solidified and then I'll hopefully go back to the acting world a little bit. I do enjoy it!
What do you look for in a script now?
Moore: Something that is worth taking me away from music and away from home. I love balancing out the acting side of things. The quintessential girl in me loves romantic comedies and it's fun to see those films and it's like you know what you're getting and it's always a blast and you wake up with a smile on your face to go to work every day. But it's important for me to balance that out with projects that really push me somewhere and challenge me and scare me a little bit, in the sense of "Wow, I don't know if I could really do this," but I guess I could, like I've never gone here before. Whether it's a period piece or some crazy action film or something intensely dramatic. I don't know what it is. Just working with great people and a challenge in whatever sense of the word.
Would you do musicals?
Moore: Yeah! If it was a really good one. I heard they're bringing back Guys and Dolls – that's my favorite musical. Something that's classic. One day. Very scary thought, but one day!
What do you think has been your best body of work?
Moore: Well musically, I'd say this record. Film-wise, I'd say Saved! and there's this other movie that came out at the end of 2007 called Dedication that I really am proud of.
Any chance you and your new husband Ryan Adams will work together, or do you like to keep it kind of separate?
Moore: I think at this point it will probably be kept separate just because I think when you invite in that kind of attention it tends to just put undue stress on the relationship. I'm kind of fiercely protective of it and it's the most important thing to me, so I wouldn't want to compromise it in any way. But you know, having said that, clearly I think he's the best at what he does. It's really wonderful to have that kind of support in my life and understanding, and also like that great ear to run ideas by: "Babe what do you think of this?" We have fun jamming together at home, but it doesn't need to be made public.
Any movies that you're looking forward to seeing that are coming up? The Hangover is a hilarious one you should see.
Moore: Yes! I'm been a huge Zack Galifianakis fan forever that I'm psyched to see him in a movie.