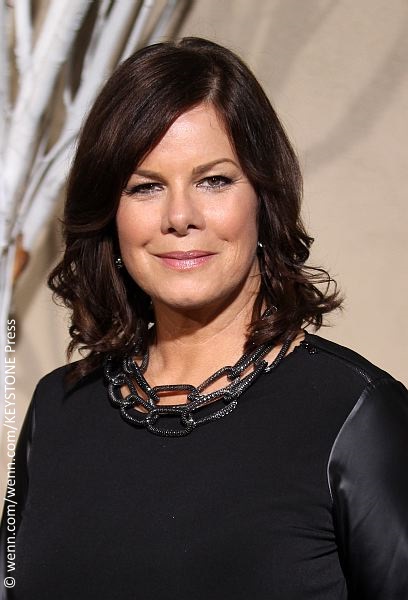 Mama Grey comes out to play in Fifty Shades of Grey. Okay, so maybe not in the red room of pain and pleasure, but Marcia Gay Harden has her work cut out for her as she plays doting mother to handsome hunk Christian Grey, played by Jamie Dornan. Her hands may be tied when it comes to his personal affairs, but Mrs. Grey certainly knows how to throw a dinner party. We chatted with Marcia about her role in the film and what was it like working with the talented cast.
How did you carry out the role of Mama Grey?
Straight out of the book! In the first one I'm really only in two scenes and her job is to be their dinner party thrower, and so first of all it's straight out of the book. She is a surgeon and I read about what she did but this is all about entering a fantasy world with the characters that E.L James has created – being the wealthy matriarch and the nurturing woman to Christian. She's not his real mother – she's his adopted mother – so it was about finding that great nurturing mom character, working woman to be and that was a physical pursuit as well as reading all the books and understanding what her role was in the journey.
How much did you know about the movie when you accepted the part?
Nothing, but I hadn't read the books.
Did you read all the books after?
I did. I read the books to prepare for the character. I knew of Fifty Shades, who wouldn't? You would have to live in a tunnel to not hear about it on some level. So I knew about it but I didn't really know the circumstances so reading the books prepped for that.
What was it like working with Dakota and Jamie on this movie?
They're both so lovely. They were just fantastic. I mean obviously I wasn't in the red room of pain and pleasure so the scenes that we had were like any other scene in any other movie. It was interesting to see what their subtle interaction would be. I happen to know they were holding hands under the table so the question is does Mama Grey know? Can she pick up on it? What does the family see when they are seeing the two of them interacting? They were both very subtle and very lovely. Dakota is very demure and I think she is one of the few people I know that has the ability to blush, so she had this sort of innocence about her. Jamie is a very compassionate person, very funny, very witty. I think that was something lovely that he brought to the character because he could have just been this cold character but I think Jamie brought a lot of his yearning.
What did you like most about playing Christian Grey's mom?
Walking into that big beautiful home and seeing the house! It was gorgeous and seeing how the other half lives, that was really fun.
What was the biggest appeal of this project?
Well, sex sells! In this case, it is a sexy romance and I think that because they are in a relationship, unlike pornography, which is not about relationships or about intimacy, in this case they are in a very intimate relationship that does happen to have a sort of sexy dark side to it. But I think that people are enthralled by the love affair. She falls in love with this man and it's quite classic. Is he perfect if she could only change that one thing about him? Tell me what woman doesn't go to that, so I think it is pretty classic.
What was it like on set?
To me it was like any other set. It was a very dedicated crew working towards making your day. We shoot minimum of 12 hour days and actors normally shoot 14 hour days, so it was a pretty serious set to me.
I heard you bonded with Rita Ora. Tell us about that.
All of the actors bonded. For Jamie and Dakota it was the first time that suddenly a bunch of us were all there together. So there was a complete mix of the group and of course you go out and you have dinner and you bond. Rita is just fantastic and funny and silly. We laughed a lot about her latest video that was out on YouTube. We just sort of poked fun at each other, and that's always fun. It's just banter and everybody went out and had a completely fantastic time so that for me was half the fun of it. You're lucky to be a working actor and you go on location, that's part of the fun of being on location. Getting to know each other in a way that's different than getting to know each other on set. So we did that and it was really great. Vancouver was a fantastic place to be.
Are you looking forward to the sequel?
Sure. Yes. I have a lot more to do in it; it will be a lot more fun.
Is there a role out there that you would like to play that you haven't played before?
Well I wouldn't know, unless it's in theater. But in film there are always new ones being written. There are stories, people, historical characters. I'm so interested in the journeys of women that have not been written. There are so many great women in history, so many women through the ages who made inventions, who have gone on journeys, who discovered things, who conquered wonderful things in battle. Even during the Civil War there were so many amazing women who were as interesting as every soldier. Women who were hiding people, women who were helping, those are the stories that I'm interested in being written because they are affirming and they play to the things that I think are interesting in women, which is their courage and their stamina.
What's next for you?
Well I'm not sure, I'm waiting to see if a pilot I did called Code Black, about emergency room medicine, gets picked up and if it does get picked up that's probably the next thing you'll see and if it doesn't get picked up it will be a movie and we'll see what that will be. Fifty Shades maybe!
Fifty Shades of Grey is now available on Blu-ray and HD. ~Marriska Fernandes