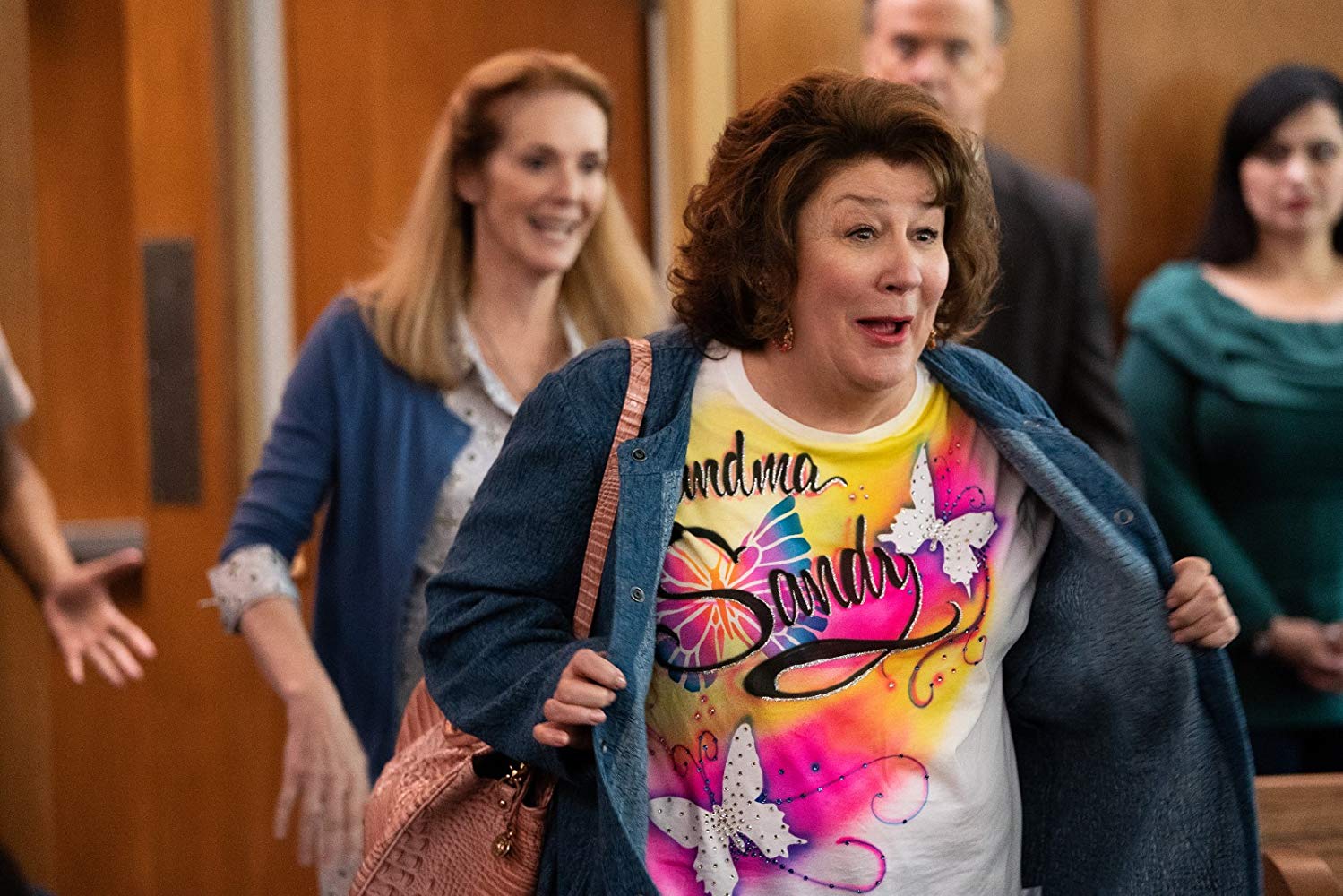 Margo Martindale has acted in countless movies and TV shows, and made her Broadway debut in 2004 as Big Mama in Cat on a Hot Tin Roof, for which she received a Tony Award nomination in the category of Best Featured Actress in a Play.
Margo's film roles include the friend of Susan Sarandon's character in Dead Man Walking, and the mother of Hilary Swank's character in Million Dollar Baby, as well as roles in Nobody's Fool with Paul Newman, 28 Days with Sandra Bullock, Proof of Life with Russell Crowe, Mama Cox in the 2007 film Walk Hard, and Ruby in Hannah Montana: The Movie, just to name a few. She also currently stars as Audrey on the Amazon Prime original series Sneaky Pete.
Last year, Margo played Grandma Sandy in the comedy Instant Family. The film was inspired by writer/director Sean Anders' life, in which he adopted three children from the same family at the same time. The adorable family film is filled with a superstar cast, including Rose Byrne and Mark Wahlberg who play the adoptive parents, Octavia Spencer as a social worker, and Julie Hagerty and Margo as the grandmothers. ~Emily Chavez
Instant Family was inspired by director Sean Anders' life. Was there a real life Grandma Sandy?
I think Grandma Sandy was a kind of a part of different people — a little bit of Sean's mother, a little bit of Mark's mother… several different people. Sort of a big personality is who she is.
How did you prepare to play that part?
Oh, I didn't prepare (laughs), no I didn't prepare, I just made my hair bigger, made my colors brighter, and made my voice louder, that's about it.
Are you similar to Grandma Sandy at all?
Not really. You know, I love people and I think that's who Grandma Sandy is — somebody who is just full of love.
Did you get to meet the rest of Sean's family? Would you say the film accurately depicts the events in his life?
Through different bits and pieces through the premiere, and through different screenings, I think most of the screenings and through his wife of course.
Who was your favorite actor to work with?
Oh they're all great. I mean, Rose Byrne and Mark were just wonderful, and the kids… those three kids were fantastic, and Julie [Hagerty] you know I had a blast with, who plays the other grandmother. The entire shoot was just a love fest and a joyride, we had a wonderful, wonderful time doing this movie.
What was your favorite scene in the movie?
Let me see, maybe the ending… maybe the ending. I liked so much of it. Of course I also loved watching how these houses get transformed, it also adds to it.
Can we talk about little Julianna Gamiz who plays Lita? She was so adorable, is she like her character in the movie?
She's exactly like her character, absolutely, isn't she adorable?
What about the others, Gustavo and Isabela?
I just loved him, wasn't he hilarious, but he was good, that was all acting, he was an incredibly sweet young man — really, really sweet. They were all incredibly sweet, and happy to be there.
Was there anything challenging for you in the filming of this movie?
Well, I made them make certain that the rides I got on in Six Flags did not go too high, that's about it.
If there's one message from Instant Family that you would want the audience to receive what would it be?
I want them to know that this is a big-hearted, big family comedy, and you go in knowing that but you come out with something else.
You earned a Primetime Emmy Award for Outstanding Supporting Actress in a Drama Series for your performance as Mags Bennett in Justified, and said that you hoped it would open more doors for older women in Hollywood.. Have the doors opened more for yourself?
I believe they've certainly opened for me, and I think it's opened the door for lots of older women, I do. And I went on to win two more Emmys for The Americans, so that's been great, and the work just keeps coming so I'm very fortunate.
What can we expect next from you?
I have a movie premiering at Tribeca, Blow the Man Down; I have a movie coming out in September with Melissa McCarthy, Tiffany Haddish, and Elizabeth Moss called The Kitchen; and I have the third season of Sneaky Pete coming out in May. Yeah, very busy.
What do you like to do when you're not filming?
Well, this is the first time that I haven't been filming in three years. I am reading one book after another, and my family and I are going to Rome in a few weeks, and waiting until I have to start shooting in June. So I'm really taking time off.
Instant Family is available on Digital, DVD and Blu-ray today. If you have seen Instant Family and would like to rate/review it, click here.