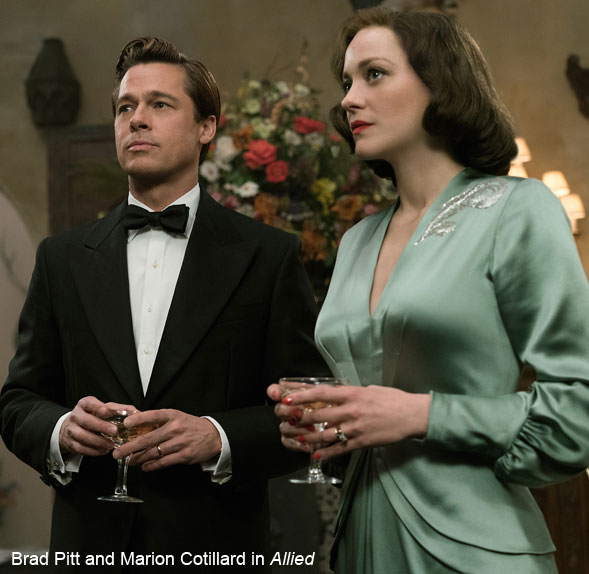 Amid reports that Brad Pitt cheated on his wife, Angelina Jolie with his Allied co-star Marion Cotillard during filming earlier this year, there have been questions raised as to the paternity of her child. She's expecting her second child in December, which means she would likely have conceived in March. Filming on Allied began in February 2016 and ended in May.
Marion and her boyfriend, French actor Guillaume Canet, have been together since 2007 and have a five-year-old son, Marcel. It was assumed he was the father of her second child as well, but now that the cheating allegations have come to light, some are saying the father just might be Brad, which would have given Angelina further fuel when she filed for divorce this week.
We are now hearing reports that Angelina was so jealous of Marion that when she came to visit the set, she refused to speak to the French actress.
According to X17, Angelina was unhappy about the sex scenes in the film. The site quoted a source as saying, "Angie couldn't handle Brad's sex scenes with Marion. Her jealousy was out of control. Brad tried for months to reassure her and calm her anxiety, but it simply didn't work. She said her intuition was telling her he was cheating."
The source continued, "Angie has struggled with insecurity over Brad's fidelity for years, but she was never as jealous over a co-star as she was with Marion. She was always paranoid Brad would do to her the same thing he did to Jen [Brad's ex-wife Jennifer Aniston, to whom he was married when he began an affair in 2004 with Angelina on the set of Mr. & Mrs. Smith]."
As for the actress's decision to divorce, Angelina's manager Geyer Kosinki insists the decision was made in the "best interest" of Brad and Angie's children, saying, "Angelina is doing what's best in the interest of taking care of her children. She appreciates everyone's understanding of their need for privacy at this time." ~Alexandra Heilbron