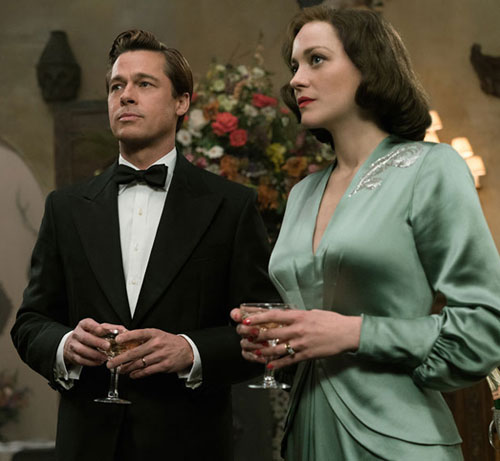 Less than two months after she was pulled into the biggest divorce scandal of the last decade, Marion Cotillard has opened up about filming the war drama Allied with co-star and former rumored beau Brad Pitt.
At a New York press conference for the film, Marion first went into detail about the very technical and "awkward" nature of her sex scenes with the handsome heartthrob.
"We rehearse and had a very determined choreography, and then it allows you freedom. When you know exactly what your body will do, then you can act and you can be free to give the emotions and give the feelings because you won't think, 'What am I going to do next? Am I going to go on top of him?,'" she said of a scene in which she and Brad get intimate in the back of a car during a sandstorm.
She continued, "It's an awkward situation. We laughed because you need to get it out because this is so weird. And so you get this time of looking at each other and saying, 'OK, this is so weird.'"
But their time together wasn't always so "weird." The French actress also reminisced about helping her American co-star improve his French.
"He had this commitment to do the best he could, which was really, really impressive, so I helped him by being very tough," she recalled. "I was very honest with him. But at the same time, I really wanted to support him in this process that I went through, and I know how hard it is."
And in spite of the negative press surrounding their relationship, Marion still has fond memories of being on set with the World War Z star.
"When you shoot a movie for three or four months, it becomes a little world where you get to know people that you didn't before and so you spend your days with new people," she said. "Of course you have fun sometimes."
Marion's admissions come after she and Brad were very publicly linked together in September, following the actor's split with estranged wife Angelina Jolie. In a heartfelt letter posted to Instagram, the La Vie en rose Oscar winner vehemently denied the rumors, wishing the former power couple "peace in this very tumultuous moment."
The question still remains as to whether the publicity will harm or help Allied when it hits theaters next Friday (Nov. 23).
What do you think — are you planning to see the film or are you tired of all the hype? Sound off in the comments below!