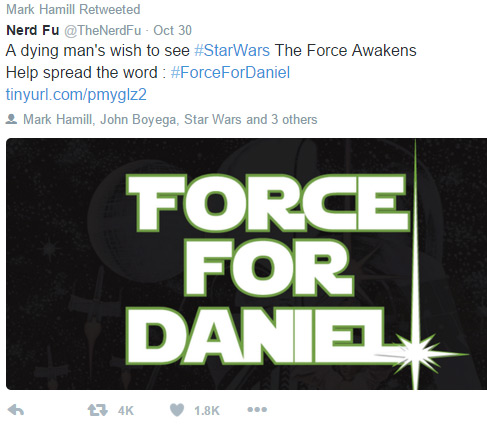 Although Star Wars fan Daniel Fleetwood, 32, is dying of Spindle Cell Sarcoma, he's hoping to be able to see Star Wars: The Force Awakens prior to its December 18 release date.
Daniel's oncologist gave him two months to live in July and although he's proven his doctor wrong, he doesn't think he will live long enough to see the latest Star Wars movie open in theatres. He told his local TV station, Houston-based KPRC: "Judging by how progressive the disease has gotten in the past two months, I really don't think that I'll be able to make it."
Daniel's wife Ashley launched a campaign online to ask Disney and director J.J. Abrams if they could let him see The Force Awakens prior to its release in theatres. The story made it to Twitter and Mark Hamill, who reprises his role as Luke Skywalker, has retweeted a post about it, as has Carrie Fisher, Mark's co-star in the original Star Wars films, and John Boyega, one of the stars of the new film.
In 2012 Abrams fulfilled a similar fan's request when Daniel Craft, who had a terminal illness, was shown a rough cut of Star Trek Into Darkness five months before its official release. Daniel died just a few days later.
Update: Disney granted Daniel's wish and he saw a rough cut of the new Star Wars movie at his home last week. He died shortly afterwards on November 9, 2015.