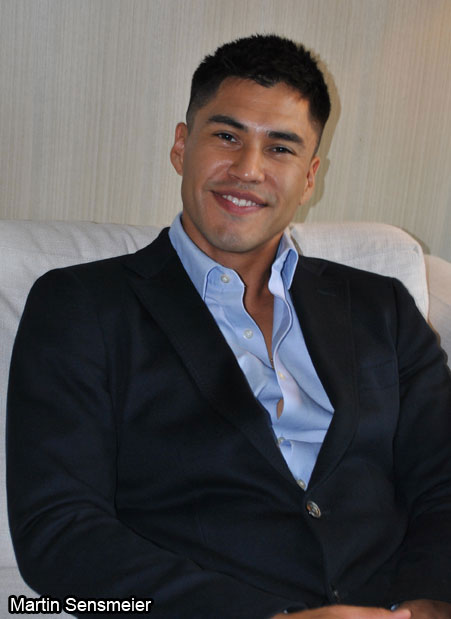 Martin Sensmeier makes his major motion picture debut as one of the "seven" in the western action flick The Magnificent Seven alongside Denzel Washington and Chris Pratt. The movie was the official opening film of the Toronto International Film Festival, where Tribute had the opportunity to chat with him at the Four Seasons about his role as Red Harvest in this incredible new blockbuster. ~Alexandra Heilbron
This film is visually stunning. Films are often shot inside a sound stage, but this was filmed mostly outdoors. What was it like to film in such beautiful surroundings?
Louisiana is a gorgeous place, there's no doubt about that, but it's definitely hot in the summertime. So that was a battle in itself because you know, we're fighting temperatures of 100 degrees, 105 degrees, and we're trying to work in this, and mind you it's about 80 percent humidity so it's hot. That's the South. The sweat you see on us in the movie, all that's real. But being outside was great because they had an actual town built there for the movie. We shot in that town every single day for four months, and so it was really special because it felt like you were in another world. Even when we went to set, a lot of the time we'd ride the horses to set from the trailer. And then you got to go into that world and see it how you saw it onscreen and it was amazing.
What was it like filming in New Mexico?
We shot in New Mexico for the last three weeks of the film and really it's funny, because all the other guys were so comfortable and liked it so much, but if you noticed, my wardrobe was a little bit different. So when we get to New Mexico, it's 75 degrees towards the end of the summer — I was cold, man. I was like man, I got soft. [laughs] And I was actually pretty cold, but it was nice. It was a nice change of pace, a nice change of scenery, and in New Mexico, there's big huge skies, and it was beautiful. I loved it out there, I love New Mexico.
When you get called to audition for a role, you get a description of what your character's all about. What was the description you were initially given for Red Harvest?
From the audition, the actual character had changed by the time we had started filming. You know, the character had changed, the tribe had changed, there's a lot that changed about the character. I mean, I saw who was in the film, I saw who was already signed on. I've auditioned for a lot of films, and I've been told "no" a lot of times, so when I got this one I was thinking, "You know what, at this point I've been doing this for a while." When I don't get a job, I don't think about it. I don't sit around, and when this one came around it was no different. I was thinking if I don't get this, whatever. I didn't expect to get it, I didn't expect not to get it. It was just part of the job, you go to audition for a film and hopefully you get the part. You know, I got a call back and I ended up getting a part. So at that point it was pretty surreal, I was like, "Okay." But I understood that there's going to be a lot of work that goes into this, and I didn't know how much I was in for. I worked real hard for this show.
What did you like best about playing Red Harvest?
Oh man, probably riding my horse. We had a real relationship, I worked with Bruco for five months, we spent every day together. It was really special, the horse was kind of an ornery horse when I first got there. He had just been gelded — he was a stud about three or four weeks before the shoot. So he was still sore, still hurting, he was still angry, still had a lot of testosterone, and he was a bully. So he was bullying all the other horses, and he tried to buck me off all the time, it was crazy. But there was a point there where it was like a light switched on and we just clicked, and we knew each other, and we respected each other. And after that, I wanted to have my horse everywhere we went on set.
How did your upbringing in Alaska help you prepare for this role?
In terms of work ethic, I approach every job with the same mentality. I want to be the hardest worker in the room. And so growing up in Alaska, I was working by the time I was 12 years old. Scrubbing boats, gutting fish, working construction by the time I was 14, 15 years old. Labor jobs right up until the time I was 18. Graduated high school at 17, went to welding school. I was a certified welder by the time I was 18, I was working on an oil rig at 21, and I spent five years working on the rig. But in the midst of all that, I started taking acting classes, and I've always been a daydreamer. So acting was just something that I loved to do from a very young age, and I just started applying myself when I realized, "Okay, either you're going to do it or you ain't." So working on the rigs, working long hours, working in a logging camp, all these different things I've done, some of them are the most dangerous jobs in the world. So when you get to a movie set, you're like, this is more fun than it is work to me. So I said to myself, "I'm going to put as many hours as I can into this movie thing while I'm here." On my days off, I didn't leave Baton Rouge, I didn't go to New Orleans to hang out on the weekends. When I had a two week break, I didn't leave Louisiana, I stayed there. I trained, I stayed locked in, I stayed in my zone and just kept the routine and so hopefully I think that'll show on film, and everybody will like it. But yeah, I just did the best I could with what I had and did what I know how to do, and that's work, work hard. Apply myself and give it everything I've got.
There's a scene in which you eat a heart. What was that made of?
That was a heart. [laughs] No, that actually…the prop guy made that. Gary Tuers. He made that out of mozzarella cheese. He melted mozzarella cheese and mixed in some food dye and shaped it to look like a heart. It looked like the real thing.
It did, it was disgusting [laughs].  There are some really funny lines in the movie. Was that in the script or was there ad-libbing going on?
A little bit of both, you know, a little bit of both. There's a lot of funny stuff in the script, we had some great writers. But also some of the guys that are on set are great storytellers. So you know if you feel something in the moment, and it just comes out and it works, then it works.
What was the craziest thing that happened on set?
Oh man. There was a lot. You know, I think I've have to credit that to the stunt guys, those guys are crazy all day every day. They're some of the hardest working, toughest guys I've ever met. They're all real deal cowboys. They were out there, getting up at 3:30 in the morning, picking up horses at 4 a.m. and then bringing them to set, and then not wrapping up and dropping off the horses until midnight. So those guys really work, you know what I mean? And the stunt guys, they're out there putting their life on the line to get great shots, making us look good.
You're walking the red carpet tonight, what are you most looking forward to?
Having my parents there with me. They've been the most supportive people in this journey. They've always encouraged me to chase my dreams and goals and whatever it was. You know, I told them I was going to be a welder, they were supportive. When I told them I'm quitting welding, I'm doing this, they were supportive. They've never second guessed me, doubted me, or anything like that. They've always believed in my ability to do whatever it is that I wanted to do, and support that. And so, it feels good to be here in Toronto and to be bringing my parents to the world premiere of The Magnificent Seven tonight. It's pretty special.
One last question. What can you tell us about your upcoming projects?
Well, I did a film called Wind River with Taylor Sheridan. That guy's on fire right now, he had a movie come out last year called Sicario. He did another movie that's in theaters right now called Hell or High Water. If you haven't seen it, go check it out. Great film, great film. But he wrote and directed Wind River starring Jeremy Renner, Elizabeth Olsen, Graham Greene, Jon Bernthal, and I'm in it. It's a great cast and I'm excited for people to see that one. And then I also had a small part in Westworld, the TV show on HBO. The new series that premieres in October, that's a cool show.
The Magnificent Seven hits theaters this Friday, Sept. 23, 2016.
Photo of Martin Sensmeier by Alexandra Heilbron.
Photo from The Magnificent Seven courtesy of Columbia Pictures.