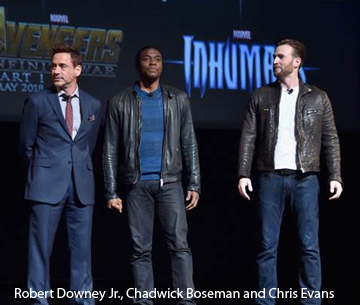 Don't know where you'll be in five years time? Now you do! MARVEL just rocked everybody's world today by announcing their film lineup for the next five years! During a special event at the El Capitan Theater in Hollywood, Marvel Studios President Kevin Feige took the stage to unveil Phase 3 of the Marvel Cinematic Universe.
Marvel Cinematic Universe has already released 10 films, beginning with 2008's Iron Man. Not surprisingly all 10 films have opened at #1 at the domestic box office and have collectively grossed over a whopping $7.1 billion globally. Their films continue to break records left, right and center with Marvel's The Avengers and Iron Man 3 holding the top spots  for highest domestic openings of all time and Captain America: The Winter Soldier and Guardians of the Galaxy breaking domestic records for the months they were released.
So it's no wonder that Marvel doesn't have any plans to slow down any time soon. Phase 3 is bringing back fan favorites including: The Avengers, Captain America, Thor and newbie Guardians of the Galaxy.
At first Marvel announced the new Captain America movie as Captain American: Serpent Society. However, Iron Man (Robert Downey Jr.) and Captain America (Chris Evans) themselves appeared onstage to reveal the actual title of the third Captain America movie as Captain America: Civil War, thus confirming rumors that the storyline revolves around the two heroes at odds with one another specifically regarding the superhero registration.
Another film in the Thor franchise was announced: Thor: Ragnarok, with Tom Hiddleston reprising his role as everyone's favorite mischievous god, Loki.
One of the biggest announcements has to deal with The Avengers. The third Avengers film is too much too handle that it will actually be split between two parts! Good news for the fans.
The biggest news in terms of Marvel has to be regarding the announcement of newcomers Black Panther and Captain Marvel. Black Panther casts 42's Chadwick Boseman as the studio's first black superhero and Captain Marvel will feature the first female Marvel superhero to have a solo movie.
So get your calendars ready now! Phase 3 rollout is as follows:
5/1/15- Avengers: Age of Ultron
7/17/15- Ant-Man
5/6/16- Captain America: Civil War
11/4/16- Doctor Strange
5/5/17- Guardians of the Galaxy 2
7/28/17- Thor: Ragnarok
11/3/17-Black Panther
5/4/18- Avengers: Infinity War Part I
7/6/18- Captain Marvel
11/2/18- Inhumans
5/3/19- Avengers: Infinity War Part II
~ Janine Wyslobicky