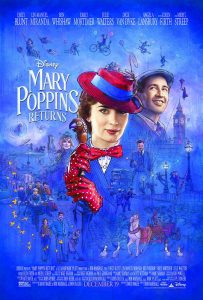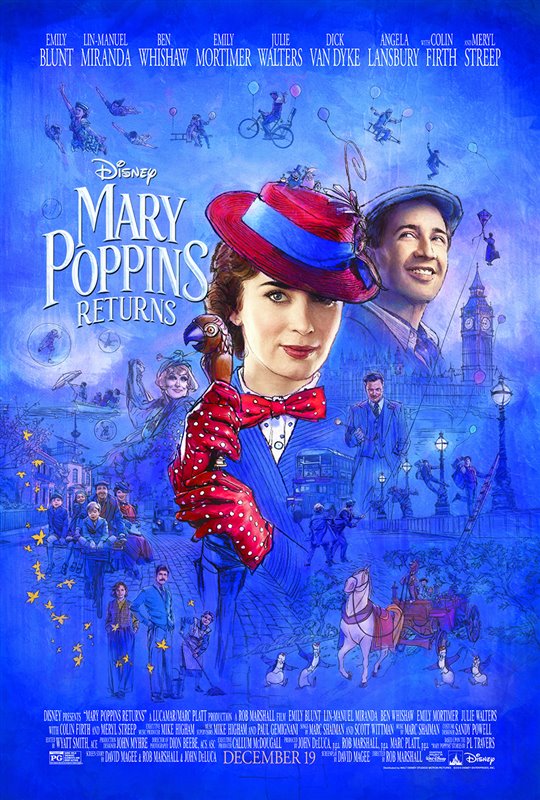 The beloved classic Disney movie Mary Poppins came out so many years ago that I wasn't sure what to expect from Mary Poppins Returns, but the fact that it featured characters from the original (although, now grown up), was a definite plus.
When I saw the original as a child, I loved that it was about two kids, Jane and Michael Banks, who experience a series of extraordinary events when a new nanny enters their lives. In the sequel, Jane and Michael have grown up. Michael (Ben Whishaw), a recent widower, has three children, while Jane (Emily Mortimer) is single.
Mary Poppins was set at the turn of the century, while Mary Poppins Returns is set in Depression-era London.
It begins with lamplighter Jack (Lin-Manuel Miranda — famous for writing, composing and starring in the Tony-award winning Broadway musical Hamilton) singing as he extinguishes the street lamps one early morning. His character takes the place of Bert the chimney sweep (played by Dick Van Dyke in the original).
We're then introduced to Michael Banks, who is grieving the recent loss of his wife. His household is in an uproar as the bank nails a notice to his door saying he's missed too many payments — if he doesn't pay up in full by Friday, the bank will repossess the house that he grew up in.
Since Michael has been too preoccupied to buy food, his children — Annabel (Pixie Davies), John (Nathanael Saleh) and Georgie (Joel Dawson) — tell him they'll go pick up groceries.
As they make their way through the park, Mary Poppins (Emily Blunt) descends, holding the kite that Georgie was playing with. Although Blunt plays her as somewhat snobby (that's not to say she doesn't have a heart of gold) and more regal — more like the Mary Poppins from the original books, she still has a warmth that immediately endears her to the audience.
The child actors, despite their young ages, are focused, energetic and completely dedicated to their roles. They never look distracted when someone else has center stage — as when Mary Poppins and Jack take over and perform several musical numbers at a music hall (although for the audience's sake, this scene could have been a little shorter).
Meryl Streep turns up as Mary Poppins' cousin Topsy, to whom Mary and the children bring a dish that was broken. That left me wondering — if Mary Poppins is magic, couldn't she have fixed the china? Why did she have to drag the children to Topsy's shop? It seemed like a gratuitous scene written exclusively to get Streep into the movie. The scene could be cut and no one would notice the difference.
However, after that, the movie sped along, keeping the audience fully entertained. When Dick Van Dyke appeared as the elderly banker, and the original Jane, former child star Karen Dotrice, turned up in a cameo, it really added a touch of nostalgia. And when Angela Lansbury (who starred in Disney's Bedknobs and Broomsticks alongside David Tomlinson, who played the father in the original Mary Poppins) also turned up as a magical balloon seller, it seemed like a nod to Walt Disney himself.
Mary Poppins Returns doesn't feel like it was made 54 years after the original — it has the same ambience as movies made within Walt Disney's lifetime. I felt like I was watching a movie from the 1960s, during the height of Disney's career, when he was not only hosting a weekly TV show and producing movies for television and film, but enjoying the success of Disneyland while making plans to open Walt Disney World in Florida.
If you enjoyed the first movie, you'll love this new film. It has terrific new songs, a touch of animation, an interesting storyline and wonderful performances. ~Alexandra Heilbron
To have a chance to win the original motion picture soundtrack of Mary Poppins Returns, head on over to our Tribute Movies Instagram to follow us and enter our giveaway!
Click here to watch our exclusive interview with Emily Mortimer and click here to see our red carpet coverage of the Mary Poppins Returns Toronto premiere!
If you've seen Mary Poppins Returns and would like to rate/review it, click here.